Coronavirus Updates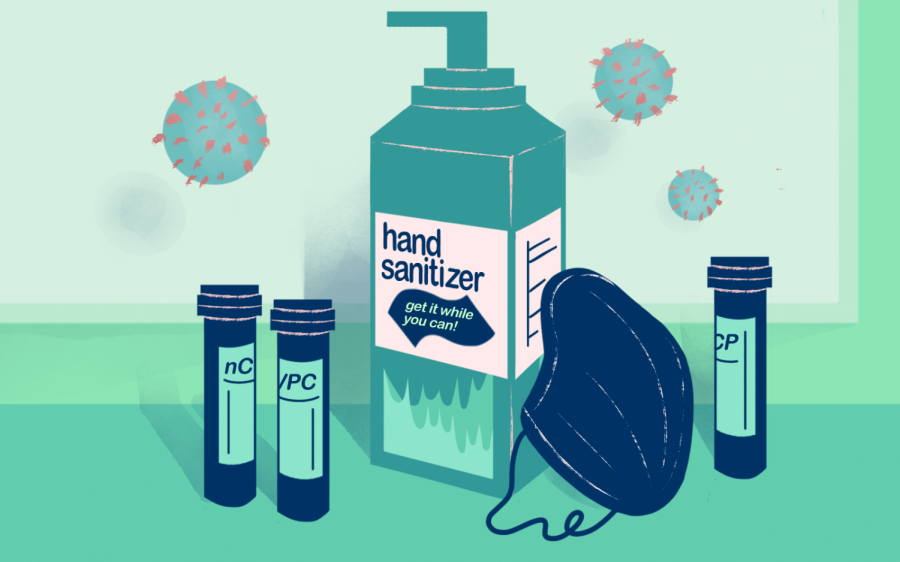 Follow @lahstalon on Instagram for more updates. 
Thursday, June 18
Face coverings are now mandatory in most California public spaces:
Required in:
indoor public spaces
any healthcare related environment
while waiting for or using public transportation
workspaces
outdoor public spaces where people cannot be six feet apart
Exemptions:
outdoor spaces where six foot social distancing is possible
restaurants where distance is maintained
children under the age of two
people who cannot wear a face covering due to medical, mental health reasons or a disability
---
Wednesday, June 17
School athletes may begin training on campus again starting next Monday. Athletes must train in groups of no more than 12 students with only one coach, according to Principal Wynne Satterwhite.
For now, students may only participate on one team, meaning they must choose between a club team and school team.
The school district also announced that students will receive letter grades for the 2020–21 school year. The district is expecting guidelines from the county in early July about whether students will be able to return campus in the fall.
Additionally, administrators discussed sanitation procedures and personal protective equipment (PPE) for in-person learning. The district will receive a 60-day supply of masks and face shields from the county.
---
Sunday, May 3
This year's finals and grading policies will remain largely up to course teams. Some teachers will likely give open-note assessments for finals, according to Assistant Principal Suzanne Woolfolk. Finals will still be summative assessments, although teachers may choose whether they are tests or projects. 
Course teams will decide their own grading policies under the credit/no-credit system (i.e., what counts as credit and what doesn't), using guidance from the district. The district has not answered a request for said guidance. 
The finals schedule will be identical to the Phase II weekly schedule, as opposed to having special block periods as per usual.  
Superintendent Nellie Meyer said that the district is looking into many possibilities for the fall semester, including a later start date, staggered schedules and continued distance learning. 
---
Monday, April 27
Santa Clara County's shelter-in-place order will be extended through the end of May, although officials will ease some restrictions. In a joint press release today, seven Bay Area counties including Santa Clara announced the extension of the original order which was set to expire on Sunday, May 3.
"This global pandemic of COVID-19 is still in its early stages," the release read. "As effective as our efforts have been, if we move too fast to ease restrictions, the potential of exponential spread could have grave impacts to health and wellness of our residents as well as the economy."
The official order and the new restrictions will be released later this week.
---
Monday, April 6
Prom has been rescheduled for Friday, August 7; if the shelter-in-place order continues after this date, Prom will be held on Wednesday, November 26. The Senior Picnic has been canceled, and money spent on tickets will be credited toward the purchase of a Prom ticket.
According to Assistant Principal Suzanne Woolfolk, Graduation will most likely be postponed, although that isn't concrete. If postponed, it will be held soon after Prom. The Senior Class Council will host a Zoom meeting after Spring Break for students to give their input on Graduation and other senior events. The meeting time will be released after the break.
Additionally, the school will begin issuing refunds for purchases affected by the school closure. Refunds include spring sports transportation fees, the talent show and Senior Picnic. The administration is working on creating an online refund form and expects to have it available in late April. Money will be refunded in the form of checks. Talent show tickets will not be covered by the form because there is no record of ticket purchases and will be refunded when school reopens.
---
Monday, April 6
During today's special board meeting, the MVLA School Board approved a credit/no credit grading system for the second semester of the 2019-2020 school year with a 4-1 vote. A credit/no credit system has no impact on a student's GPA, unlike a pass/fail system. The board voted after hearing comments from the community as well as recommendations from the Santa Clara County Office of Education and superintendent Dr. Nellie Meyer to implement a credit/no credit system for this semester.
---
Friday, April 3
The College Board released additional information regarding AP tests today, April 3. 
Most notably, the College Board implied that as well as being open note, the internet is an allowed resource during tests by calling it a "source of misinformation" but failing to explicitly ban its use. 
However, using human resources—like collaborating with other classmates—is forbidden. 
In addition, the College Board released the following information: 
Tests will be administered from Monday, May 11, to Friday, May 22. There will be make-up dates from Monday, June 1, to Friday, June 5.

Most tests will include one or two free response questions and no multiple choice questions. 

Students may handwrite and upload images of responses or type them.
In order to ensure test security:
Each subject's test will be administered at the same time, globally. 

The College Board will use a variety of plagiarism detection software. 
Student work will be provided to their respective AP teachers, which could allow teachers to check for inconsistencies with past student work. 
The main exam formats include the following:
AP World History, U.S. History and European History will be five-document DBQs.

AP English Language and Literature will be rhetorical analysis and prose.

World Languages won't have reading or writing, just listening and speaking.
Website links:
The College Board will release more information and videos on the testing system by late April.
---
Wednesday, April 1
The MVLA school district will be closed through the end of the school year in response to the continued coronavirus outbreak, Superintendent Nellie Meyer said. In line with the state superintendent's guidance released yesterday, Meyer also expects that the county will make the decision official for all of the districts under its jurisdiction.
Meyer said that the MVLA district is discussing switching to a credit/no credit system that wouldn't affect GPAs like PAUSD has already done. That decision is slated for the next board meeting, currently scheduled for Monday, April 20.
Plans for Phase 2 of the district's learning are still not finalized but are to be completed as soon as possible.
Additionally, Meyer is open to suggestions from the community for ways to replace events like prom, graduation and grad night. Currently, ideas include hosting events virtually or pushing events to a later date.
---
Tuesday, March 31
Schools will likely be unable to resume in-person instruction through the end of the school year, the state superintendent said in a message to California officials today. The letter does not issue a mandatory directive, but rather guidance; the decision to extend closures still remains up to local officials. However, the guidance echoes what many district superintendents had already feared and opens the door for local officials to prolong closures to such an extent. This story was first reported by the San Francisco Chronicle and other California news outlets.
---
Tuesday, March 31
Santa Clara County, along with six other counties and the city of Berkeley, has extended the shelter-in-place order through Sunday, May 3 and added new restrictions for exemptions to the order. These restrictions include banning the use of shared recreational facilities like dog parks, picnic areas, basketball and tennis courts and playgrounds. Essential businesses must create a social distancing protocol by Friday, April 3, and most construction is no longer permitted. Additionally, sports that require players to share a ball can now only be played with people inside one's household. The new order will override the previous order to shelter in place through Tuesday, April 7 at 11:59 p.m. tonight.
---
Saturday, March 28
This year's AP exams will be open book, College Board executive Trevor Packer said via Twitter. The College Board is expected to release official details in its Friday, April 3 press release.
---
Wednesday, March 25
School will remain closed through Friday, May 1. The closure will apply to six Bay Area counties, as announced in a press release from the Santa Clara County Office of Education this morning. Academic instruction will continue to take place over online platforms and schools will still provide meals.
---
Friday, March 20
This year's AP exams will be taken online, at home. The exams will be 45-minute abridged versions, focusing only on content that most classes covered by early March. The College Board says that the tests will be recognized by colleges and that students will receive due credit. Each AP exam will have two testing dates, to be released on Friday, April 3, along with other testing information.
As for test security, the College Board has not released many details, only claiming that it will use various digital security tools to protect against cheating. 
The exam may be administered on any device, and the College Board plans on working with students that don't have access to such resources. 
The College Board is also providing the opportunity for students to cancel their exam at no additional charge. 
The College Board says that shortened AP exams have been used in the past, with full support from colleges. At-home work has also been used in various exams, such as the AP Computer Science Principles and AP Capstone courses. 
Free, live AP review courses will also be available starting Wednesday, March 25. A loose schedule has been released on the College Board website, with more lessons still being planned. AP Classroom, which was introduced at the start of the school year, has also been unlocked for teachers to access for remote learning.
---
Thursday, March 19
California Governor Gavin Newsom announced a statewide shelter-in-place, effective tonight. 
Neither Newsom nor the written order specified the length of the shelter-in-place. However, he implied that the mandate will last longer than two weeks, which would extend beyond the order already in place in Santa Clara County. 
"This is a dynamic situation," Newsom said. "We could put a two-week deadline, but that gives people a false sense of what to expect."
Based on his initial statement, the mandate allows for essential businesses and activities to take place. Also, as of now, law enforcement will not be implemented to carry out the mandate. 
This move comes after California health officials predicted that 56 percent of California's population would be infected by COVID-19 within eight weeks if no action was taken.
---
Thursday, March 19
The district released guidelines to teachers for the first phase of remote learning, which will last from Monday, March 23 up until spring break. During Phase 1, teachers are not allowed to give any summative assessments and may only assign 20 minutes of work per weekday. Teachers must give students 48 hours to turn in assignments, and all weekends will be homework-free. While teachers are encouraged to use Google Classroom and other Google Suite resources, they may not use live video streaming during Phase 1. 
If school does not resume after spring break, the district will move on to Phases 2 and 3, which will focus on a more long-term solution. Details for Phases 2 and 3 have not yet been specified. Expectations will be shared with students in the near future. 
---
Tuesday, March 17
Schools may be shut down until the summer, California Governor Gavin Newsom said in a press conference this afternoon. However, Newsom said that this is not a certainty, just a prediction.
"I would plan and assume that it's unlikely that many of these schools—few, if any—will open before the summer break," Newsom said.
The press conference came in the midst of expanding lockdown procedures, as Monterey, Sacramento and Sonoma announced a "shelter in place" today, March 17. California has also requested a federal waiver to be exempt from standardized testing this year. 
Santa Clara County currently has 155 confirmed cases of the coronavirus and five deaths.
---
Tuesday, March 17
Principal Wynne Satterwhite says that guidelines and expectations for online learning should be available by tomorrow. A letter from Superintendent Dr. Nellie Meyer also identified Google Classroom as the main learning platform that will be used over the course of school closure. At-home learning is still scheduled to be launched Monday, March 23.
Satterwhite says that the district is still working to resolve internet access issues for students. In her most recent letter, Meyer provided a form for those who still need internet access.
"There is a plan but supply is limited from the supplier as everyone is trying to get their services," Satterwhite wrote.
No teachers or students should be on campus while the "shelter in place" is in effect for the next three weeks. Over the next few days, a small group of custodians is cleaning all horizontal surfaces.
Additionally, as an update to the previous post, students are not expected to do any coursework this week, including assignments that were given prior to school closure.
---
Monday, March 16
The MVLA district has instructed teachers not to assign students with any additional classwork or homework until Monday, March 23. The break in instruction is meant to give the district time to plan how it will educate students with individualized education programs (IEPs) and students with limited or no internet access throughout the county-wide shutdown. This move further reflects the district's lack of a comprehensive plan prior to last week's shutdown of all county public schools.
---
Monday, March 16
Santa Clara County is under a shelter in place order effective at 12:01 a.m. tomorrow, March 17, and will last for at least three weeks. The mandate also covers the counties of San Francisco, San Mateo, Marin, Contra Costa, Alameda and the city of Berkeley.
"We must move aggressively and immediately," San Jose Mayor Sam Liccardo said. "The time for half measures is over. History will not forgive us for waiting an hour more."
Click here to read the full article.
---
Monday, March 16
Six Bay Area counties are expected to issue an order to "shelter in place" at 1:00 pm. The order will last until Tuesday, April 7. The mandate is not expected to order a full lockdown, but rather to direct residents to stay in their homes as much as possible. These counties include San Francisco, Santa Clara, San Mateo, Marin, Contra Costa and Alameda. Other Bay Area news outlets first broke the story after receiving a draft of the statement from a county official. Many specifics, like how the order will be enforced, are expected to be clarified in the press release.
Additionally, this morning, Santa Clara county issued a press release stating that it would close all non-essential services. Essential services include those needed to protect the health, safety and welfare of the community.
---
Friday, March 13
The county has closed all of its public schools for the next three weeks, extending the original two-week closure set by the district. Spring break will still take place as scheduled, with classes scheduled to resume Monday, April 13, a month from now.
They also have issued a mandatory ban on all events with more than 100 people attending and have released regulations for events with more than 35 people.
Additionally, as a result of the school closures, all athletics practices are now canceled alongside SCVAL competitions and meets. The school is still looking to resolve the issues of homeless students, free and reduced lunch students, special-ed students, and students without internet access at home. The campus itself is still going to be open to teachers, although they are not expected to come.
Click here to read the full article.
---
Friday, March 13
The MVLA School Board voted 5-0 to cancel all in-person classes from Monday, March 16 to Friday, March 27 out of concern for the recent Santa Clara outbreaks of COVID-19. During this period, the superintendent will have the authority to extend the closure as long as necessary. The board is also waiting on a decision by the county this afternoon. If the county decides to close schools for a longer period of time than two weeks, the board will follow the county's decision.
---
Thursday, March 12
The rumors about a Los Altos student who tested positive for the coronavirus are not confirmed, according to Principal Wynne Satterwhite. Multiple students have been pulled out of class for precautionary measures, though none of them are known to have the virus.
"Just because you cough doesn't mean you have coronavirus," Satterwhite said. "But we are taking all precautions necessary."
Satterwhite also added that parents may excuse their students from school if they are uncomfortable with the risk. However, students must stay home the whole day and can't attend athletics.
---
Thursday, March 12
The Santa Clara Valley Athletic League has decided to cancel all spring sports through the end of the season. All meets and competitions are canceled, although teams will still be allowed to practice. This is in accordance with Governor Gavin Newsom's state mandate to cancel all mass gatherings over 250 people through the end of March. Principal Wynne Satterwhite said that this would likely transfer over to Central Coast Section, but it is yet to be confirmed. Athletic Director Michelle Noeth has no say in this decision. Satterwhite says that any piece of this decision is subject to change in the coming days.
---
Tuesday, March 10
The school is canceling all school trips and events up until spring break, including the Diversity Assembly and Clash of the Classes. This is a joint decision between the district and the county health department, who have both been in daily contact with each other. Events after spring break, like prom, are still in discussion and have not been canceled. 
Principal Wynne Satterwhite says that the district is working to publish a full calendar of canceled events and is still reconsidering some events like TEDxLAHS, which have smaller groups in attendance. 
According to Satterwhite, some events have even requested that Los Altos groups and teams not attend. 
"Santa Clara County is kind of a leper with the coronavirus now," she said. "I know that the robotics team isn't very happy with our decision."
---
Monday, March 9
The Santa Clara County Public Health Department has announced a mandatory order to cancel all mass gatherings of 1,000 or more people. This is a mandatory order, unlike the recommendations posted previously. The order will take effect on Wednesday, March 11, and last for three weeks. 
The Palo Alto Unified High School District has taken measures that include reconsidering prom, postponing CAASPP testing, and canceling all field trips and assemblies with over 100 people in attendance. 
There is yet to be such a response from the MVLA district. 
Additionally, College Board has closed over 100 SAT test centers—including Gunn High School—for the March 14 exam due to possible coronavirus exposure. Most students have been redirected to nearby centers. College Board has contacted universities about the issue, but it is up to individual institutions to determine how to proceed with students unable to take these tests. 
College Board says that there is no information regarding how the virus will affect AP tests at this time.
---
Sunday, March 8
Due to new guidance from the Santa Clara County Public Health Department and the Santa Clara County Office of Education, the Los Altos School District (LASD) is canceling "large, in-person activities, events, meetings, and conferences." A specific list of events cancelled at each school will be shared by principals at a later time. Field trips have also been cancelled, including Egan's annual Disneyland trip.
As of right now, there are no identified cases of coronavirus within LASD, but families who have been to a country with a high risk level for coronavirus have been asked to self-quarantine, and new students' passports are being checked to see if they will be asked to self-quarantine.
---
Friday, March 6
School administration has postponed the Eagle Talent Show which was originally set for today, March 6. The LSU Summit, scheduled for tomorrow, has also been postponed. The MVLA district issued instructions to cancel all mass gatherings, under advice from the county health department released yesterday. The rescheduled date is unconfirmed as the county cannot be certain of when the risk will clear. Additionally, according to Athletic Director Michelle Noeth, SCVAL has only released minimal guidance as to how to deal with the outbreak.
---
Thursday, March 5
New guidance from the Santa Clara County Public Health Department recommends canceling "mass gatherings and large community events where large numbers of people are within arm's length of one another." However, the department still does not recommend closing schools unless otherwise instructed. This comes partially because children are not at a particularly high risk of contracting serious illness from the virus. ASB has confirmed that it will still host the talent show tomorrow, Friday, March 6.
---
Wednesday, March 4
Menlo School has closed in response to the coronavirus for the rest of the week. This comes after the discovery that a staff member was in contact with a relative who tested positive for the virus. Additionally, Castilleja School is asking students to stay home next Monday, March 9. Faculty will use the day to plan for a hypothetical school closure, including looking into online-learning options. This is a precaution, not a response to any virus exposure.