COVID-19 cases spike across the District
COVID-19 cases have spiked significantly over the past month across Mountain View–Los Altos District schools. Between Sunday, May 15, and Saturday, May 21, 127 COVID-19 student cases were reported across the District. In addition, 21 cases have been reported among staff and other faculty. This spike is the largest since January, and is roughly in line with an increase in cases across Santa Clara County. It follows a multitude of spring events, including prom, and a general increase in testing.
The District has expressed reticence about changing policy with little time left in the school year, but continues to strongly recommend masking, vaccinations and weekly testing to mitigate the spread of the virus.
"We would like to continue with everything that's planned, but keep people as safe as possible," Leyla Benson, COVID-19 Designee and Assistant Superintendent for Personnel, said.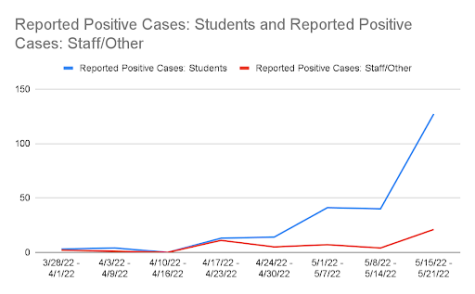 Leave a Comment