[dropcap]F[/dropcap]or Junior Aldo Montes Sanchez, the inspiration to strive to be the first person in his family to go to college comes from his mother, who never had the opportunity to go to college as she wasn't able to finish high school.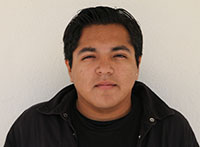 "My mother had come to the US in 8th grade and she believed that learning English was impossible at first," Aldo said. "She noticed that my grandfather was always working so she decided she wanted to help him out … My grandfather at first said school was important, but by then my mom thought that [it was] too late because as a junior she was having trouble learning English … So my mom decided to leave school [and] help out economically at home."
But Aldo says that it is his mother pushes him to work hard at school, and helps him in any way she can.
"I would ask for her help when it came to art assignments and she would help me," Aldo said. "My mom has made a huge impact on how I view school … My motivation to go to college is to succeed, because if my family believes that I can do it then I can."
"
My mom has made a huge impact on how I view school … My motivation to go to college is to succeed, because if my family believes that I can do it then I can.
Story continues below advertisement
-Junior Aldo MontesSanchez
Aldo says that many of his teachers have been supportive, also encouraging him to work hard and saying that they can see him getting into many of the universities he would like to attend. Aldo is part of AVID, which has helped him research colleges as well as prep for standardized testing.
"My biggest obstacle in going to college is financial aid," Aldo said. "It's very expensive to go to college, apparently. And I wish I knew this earlier because I would have made a bank account for college funds."
His AVID class has helped him research financial aid opportunities, but he is still concerned about the extent of the cost of attending college. Despite this, Aldo is excited about the opportunity, which he says will make the difference between the lifestyle of his parents and the lifestyle he hopes to achieve.
"When I was little, I would see that my family would … sometimes [have] money troubles," Aldo said. "And as I've grown up, I feel like I've faced obstacles where I can't make it to a place because of there being no transportation, or I can't pay for that because I don't have any money. So if I get into college, I feel like I can achieve … [and] I think that my life will be different than [my parents' lives] because [there] would be a lot more ease."
As a junior, Aldo is still not entirely sure what major he wants to pursue, but he is thinking about business and hotel management. However, no matter what his day job is, he knows that he wants to continue doing what he is passionate about, helping others, when he attends college and starts working. Right now, Aldo is simply looking forward to achieving acceptance into college, which will be a milestone in his life.
"
I want to see a change in life. I want to make it into a college where I can feel like I achieved something great in my family.
-Aldo
"I want to see a change in life," Aldo said. "I want to make it into a college where I can feel like I achieved something great in my family."