Confidence soars high with the Eagles at Mountain View game
Varsity boys basketball beat Mountain View 51-49 in the highly anticipated rival game on Friday, January 3. After a strong 12-game non-league season, the Eagles kept their momentum to pull out a narrow win against a team they have struggled to beat in previous years. The Spartans crushed Los Altos twice last season by almost double, so this win was huge for the Eagles.
"It was our first league game, so there was pressure to get off to a good start," junior Charles Sirey said. "Going 11-1 in non-league was great, but we didn't want to [ruin] that in the games that matter much more."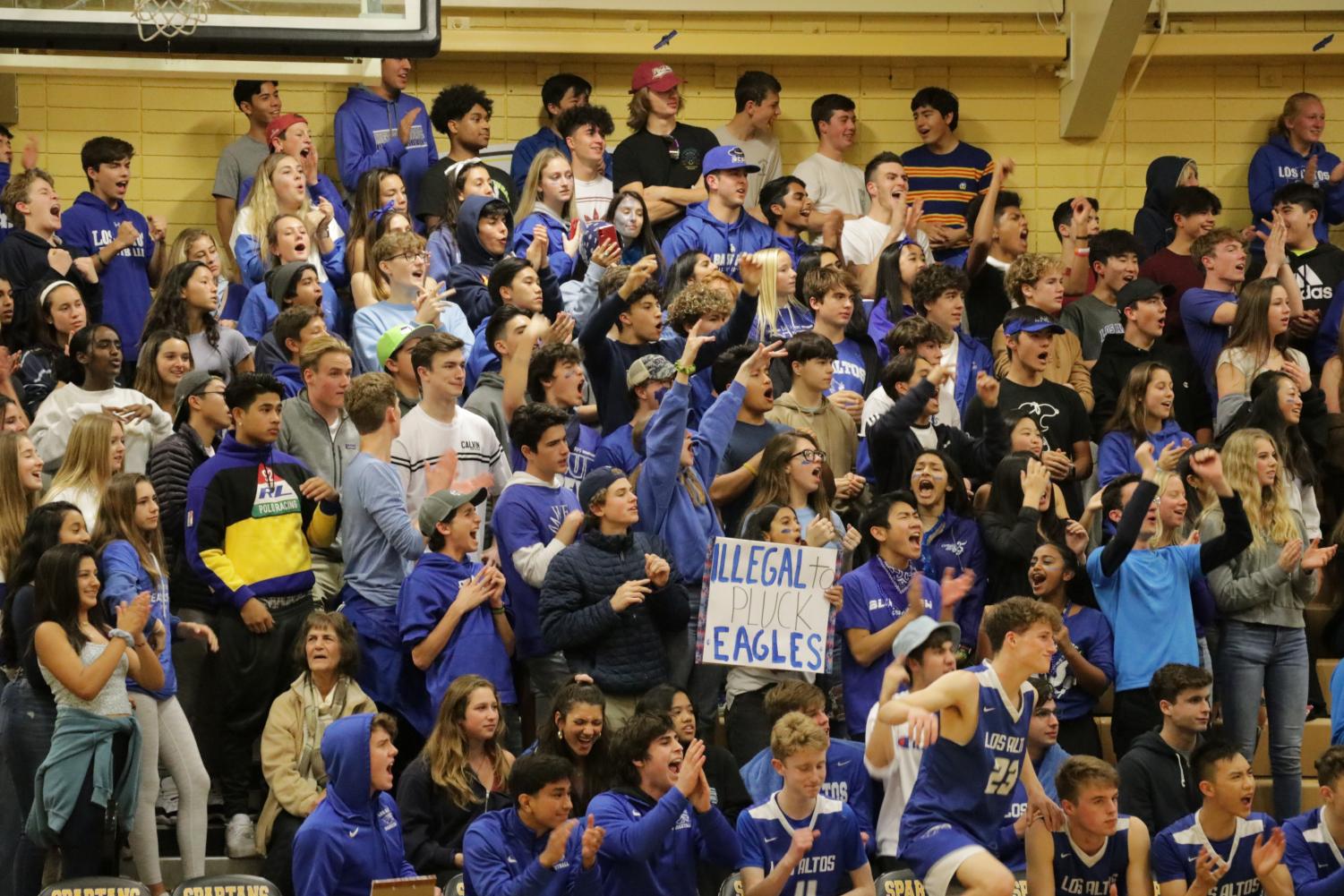 The game started off strong, the crowds energized by Los Altos' 12-8 lead in the first quarter, and they maintained this lead through halftime. A group of Spartan students in the crowd held a sign reading "pluck the Eagles", while several Los Altos students yelled and waved their "it's illegal to pluck eagles" poster.
Because of how publicized the game was beforehand, Los Altos was ready for a high turnout and worked on blocking out the distraction of the noisy crowd. The bleachers were packed on both sides with standing, hooting, and booing students and parents. In practices leading up to this game, the team blasted music in the gym while running through their plays to mimic the disorientation that comes with a screaming crowd.
Mountain View acted calmly toward the pressure of an audience, helping their playing and rewarding them with a lead on the Eagles at a few different points in the game. Rather than letting the crowd serve as a distraction like Los Altos, they used it to motivate them.
"Their fans got pumped up and that gave [the Spartans] some energy and allowed them to shut us down a bit offensively, but we were able to clean it up and get the win," Junior  Brandon Gottlieb said. "[The effect of the crowd] depends on the player, but it is definitely a completely different atmosphere than a regular game. It's just about how the player perceives it."
In the third quarter, Los Altos' defense weakened from fatigue, and the Spartans narrowed the gap through hard-hitting offensive plays. The Los Altos crowd began to lose energy as the Mountain View side built momentum.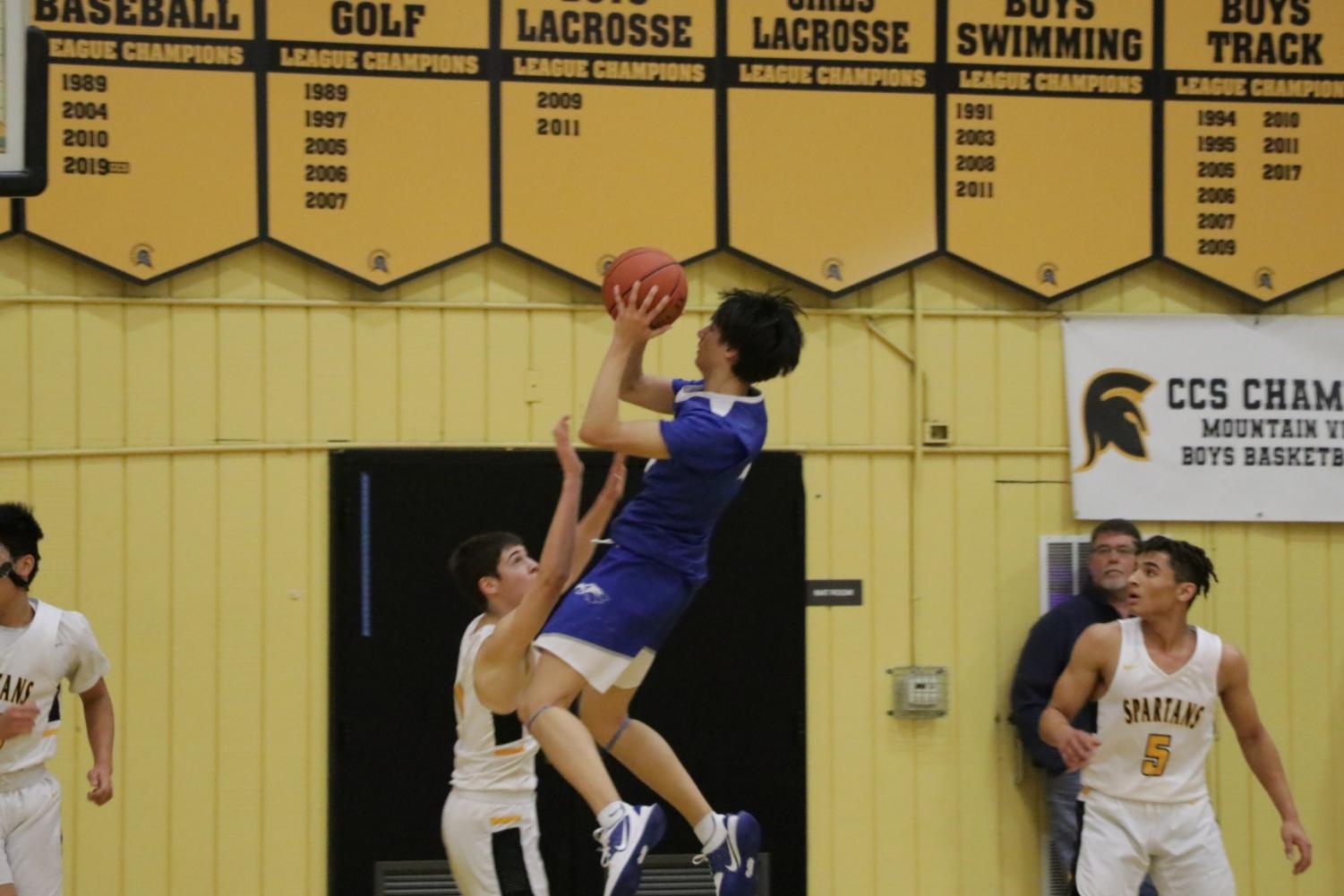 "We are really good at scoring in bunches, but on the flip side, we also let teams get on really long runs," Charles said. "We need to fix our defense and make it more consistent."
The beginning of the 4th quarter was tense in anticipation, and in the last two minutes of the game, Mountain View caught up with Los Altos, 45-45. Two successful penalty free throws then put Los Altos back in the lead. With seconds left, stands were more on edge than ever. 
"At that point, you're just going off instinct and whatever happens, happens," Brandon said. "You just have to trust your play."
Los Altos scraped by with a 51-49 win that boosted their confidence for upcoming league games.
"As a team we have a lot of confidence, and this game helped us boost that feeling, but it's important that we take the season one game at a time," sophomore Andrew Reilly said. "In order to reach our goals at CCS it is important that we play every game just as hard as others, and give all our attention on the things immediately in front of us."