Varsity boys basketball breaks undefeated streak
After being undefeated in their first five games in the De Anza league, the Los Altos basketball team lost 52-64 on Friday, January 25 to the only other undefeated team in the league, the Palo Alto Vikings. Friday's game decided which school would take the number one rank in the league and which one would get their first loss in the league.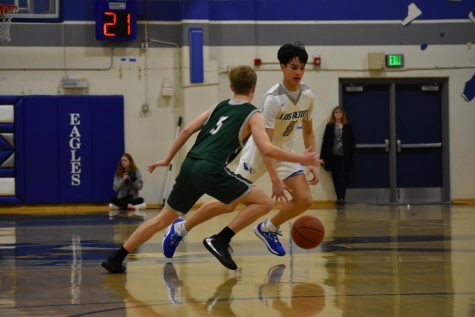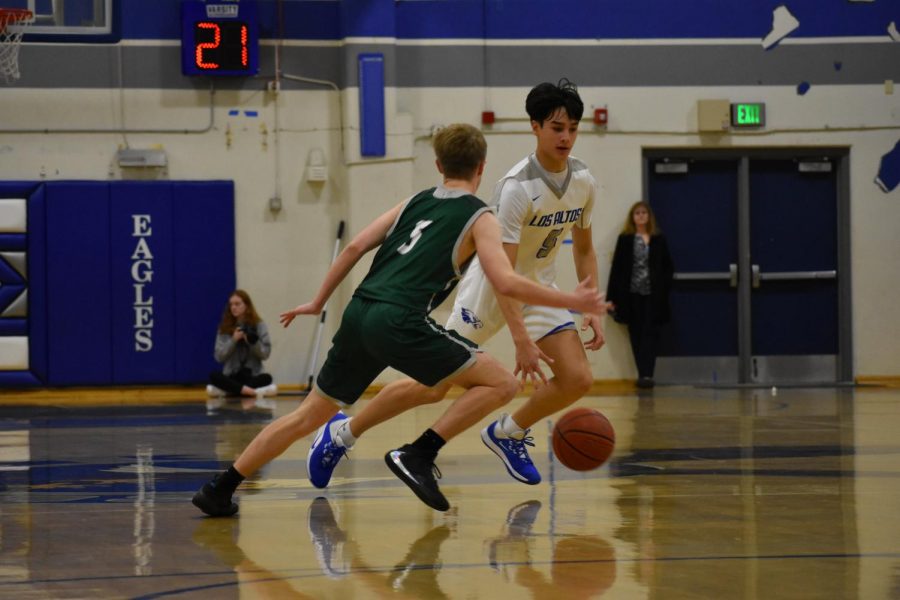 The first quarter opened with strong offense from both teams and two three-pointers from sophomore Jake Skaggs, accounting for half of the points made by Los Altos in the first quarter. Still, Palo Alto gained a four-point advantage which the Eagles weren't able to catch up to in the first half, which ended with the Vikings leading 36-25.
In the first half, Palo Alto consistently fouled more than Los Altos: they made eight while the Eagles committed four. However, Los Altos failed to take advantage of these free throws to the same extent that Palo Alto did, missing out on many opportunities to cut down their lead.
The third quarter then began on a similar trend as the first half, with Palo Alto maintaining an edge over Los Altos. The Los Altos side of the stands was tense? and many people yelled at the referees for not calling certain fouls on Palo Alto players. One student even shouted, "Ref, what were you drinking at halftime?"
There was a strong offensive pushback from Los Altos at the beginning of the fourth quarter to recover points, forcing Palo Alto to back off to allow for a steady offense from Los Altos. Although Los Altos scored 16 points in the fourth quarter, Paly secured 15, and they weren't able to close the gap.
"It took us too long to adjust [to their style of play,] and by the time we did, we'd already dug too deep of a hole to get ourselves out," sophomore Nico D'Augusta said.
According to junior Brock Susko, another weakness during this game was the Eagles's defense which was worsened by a lack of communication between players and Paly's hard-hitting offense.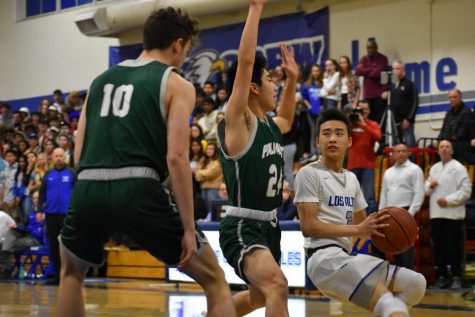 "We weren't playing up to their intensity and we just let them dominate us," Nico said. "No one had that urgency inside of them and we were playing timid."
According to Nico, not having his brother, junior Dominic D'Augusta at the game was also a weakness. Since Dom is a starting shooting guard—a key player—Nico found it a "challenge playing without him."
Los Altos is scheduled to play Paly again on Friday February 14, and plan to work on a fiercer defense to put the game in their favor.
"We have a goal, which is to beat them the next time we play them, so now we will work on everything we did wrong to prepare for the next game," Brock said. "We have a lot to work on."