Just a few weeks ago, alumnus singer-songwriter Peter Su'03 wrapped up an immensely successful Kickstarter campaign that saw him raise more than twice the amount of his original goal. Spurred by the support of more than 300 people who have pledged their money, Peter is now in the midst of realizing his lifelong dream to create a n album of original songs, titled "Into the Sea."
Music became a big part of Peter's life at a young age. He trained in classical piano and violin starting in second grade and also participated in numerous youth and school musical groups. In spite of it all, Peter lacked enthusiasm for music, an incongruity he attributed to a lack of musical role models in his life. However, once Peter arrived at LAHS, he found guidance from music teachers Ted Ferrucci and Mark Shaul, both of whom fostered a deep passion for music that would eventually launch his musical career.
"Mr. Shaull taught me how rewarding it is to give everything you [have] to music," Peter said. "[He] left a really big impression on me. When you give your all to something, you can make magic happen."
After high school, Peter attended the Haas Business School at University of California, Berkeley and quickly jumped into the musical scene on campus, joining the university men's chorus and the Noteworthy, a men's acappella group, in his sophomore year. On the side, Peter continued to play the guitar that he had picked up in high school and to write songs. Although Peter's heavy involvement in music seemed to indicate a musical path, Peter instead planned on working in venture capital firms, not music studios, because he believed that music could only be a hobby, not a career.
Story continues below advertisement
"I never considered [music] as a reason to have a career, because I didn't know anyone who played songs or wrote songs," Peter said. "It was just a hobby. In college and after college, I was more defining myself by achievements and trying to get the best job I could get in finance and venture capital."
Upon graduation from Berkeley in 2007, Peter worked at Goldman Sachs for two years and then at Sandhill Capital for another two years. Initially, he viewed his job at Goldman Sachs as exciting, a sign that he had achieved a major goal in his life. But the more Peter worked, the less he enjoyed his job.
"In business, you are not supposed to be emotional or connect with people," Peter said. "You are supposed to be really good at your job. It's more professional than emotional, and I wanted that emotional, spiritual aspect in my life."
Music served as a spiritual outlet for Peter. After a rough day at work, he would come home and  play his guitar, sing or write lyrics. However, setting aside a few hours after work each day for music was not enough to satisfy him. He eventually realized that his job was holding him back from what he truly loved, music.
"Music has always been that thing that was there for me, that always looked over me and was very pure," Peter said. "The more I worked [at my job], the more I thought about music, writing songs and performing them."
In 2011, at 25 years old, Peter quit his job. With a guitar in one hand and a pencil in the other, Peter set out to chase his dream. He spent the next one and a half years writing songs and performing them in open mics around the Bay Area. But in spite of a prolific portfolio—he had written at least thirty songs—Peter felt he lacked the training of a professional songwriter to convey the feelings that he had been bottling up since his career in finance. So Peter moved to Los Angeles and took classes at the Songwriting School of Los Angeles, which further developed his skills as a songwriter.
"For the longest time I have been on this path [of songwriting]," Peter said. "I just wanted to write a song that I genuinely felt was real and pure and could last a long time and resonate with people."
The first song that Peter believed resonated with both him and others was "Into the Sea." A slow, dramatic acoustic indie song, it captures Peter's leap of faith when he decided to become a professional singer and songwriter.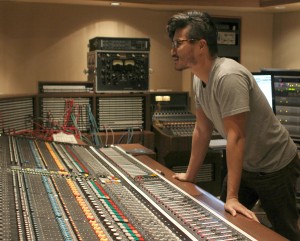 "It is a story about going up into the unknown," said Peter. "For me, it is [about] a journey going from dry land, which is stable and comfortable, to the sea, which is unpredictable and beyond one's comfort level."
This song is now the centerpiece of Peter's album, "Into the Sea," which he is currently in the process of putting together. All of the vocals of the album have been recorded, and Peter is now figuring out the artwork for his album cover.
Peter launched a Kickstarter campaign last month, on March 23, to fundraise for the costs of recording the album. He reached the original goal of $10,000 within ten days and then set a second goal of $20,000, which he reached within 20 days. As of press deadline, a total of 337 people have pledged over $25,000 dollars to fund Peter's Kickstarter. With the money, Peter now has sufficient funds to make his album and promote and publicize it.
"I was scared to do a Kickstarter at first, to put myself out there and ask everybody I know for help, but fortunately a lot of people really believe in my music and joined me on the journey," Peter said.
Making the risky transition from a finance career to a singer and songwriter path turned out to be the best move for Peter. He is now doing what he loves and has been financially successful at it thus far.
"I've learned that in my life, I did things, but I didn't really think about why I was… doing them," Peter said. "[Now I realize that] I was doing things because I thought that's what I should be doing… I think once you are able to get beyond what you want to do, and you really understand why you want to do something, then you can be anything you want."