Eagles soar to success as cross country season ends in the hills
A WORTHWHILE END TO A SHORTENED SEASON
The pack of runners charge down the straightaway of grass shoulder to shoulder, eyes set on the gravel path leading them through open terrain on the 5K course. Rather than bleachers and classrooms, athletes are surrounded by rolling hills and tall trees. On a bright Thursday afternoon in spring, you can hear the cheers of proud parents surrounding the course.
This is a scene the cross country team didn't expect to see this year, but it's exactly what they experienced at last week's meet.
On Thursday, March 25, the cross country team ran in their last Santa Clara Valley Athletic League meet of the season, which gave athletes the closest experience to a true meet this year — the past four have been on school campuses with shorter distances. A select group of 10 Los Altos High School girls and 17 boys were invited to race at the Baylands Park 3.1-mile course in Sunnyvale.
LAHS competed in the El Camino division among other high schools including Mountain View, Gunn, Fremont, Santa Clara and Milpitas; each race had a maximum of 70 athletes. The LAHS girls and boys teams placed third overall with 76 and 103 points, respectively.
Coaches, athletes, volunteers and spectators had their temperatures checked and completed an online health questionnaire form upon entry. Everyone was required to wear a mask at all times, except for athletes, who could remove their masks during their races.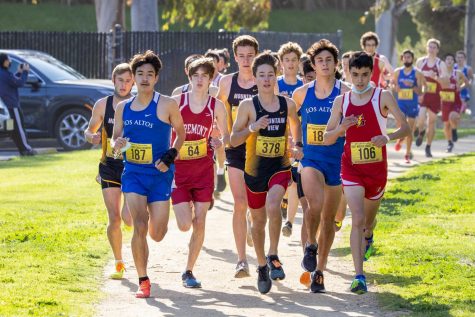 "It was exciting for the freshman because they've never done a real cross country course," head coach Stephanie MacKenzie said. "It was also really important for the returning runners to get a benchmark to compare to previous seasons."
This is not to say runners weren't prepared for this race. Their workouts and mileage throughout practices have reflected those of a normal season, and many of the sophomore boys notably cut a few minutes off their personal 5K bests since last year, according to MacKenzie.
"The race was tough, but it felt good," junior Fernando Sepulveda said. "We are all very proud with what we've been able to accomplish this season, but also, especially for the guys who were here last year, I feel like there is a little bit of disappointment because we did have big goals."
Those goals included qualifying for, and doing well at, the CIF-State Cross Country Championship, as well as having more social events as a team. To their dismay, the CIF-State meet was cancelled and team bonding events were limited, both due to the pandemic.
"We didn't get to do all our pasta feeds and just travel on a bus and do special events, which made it a little harder," MacKenzie said. "That's what I miss the most."
On the flip side, the team's small size — cut by more than half from last year's size — meant that the athletes were a more close-knit group this year. According to Fernando, everyone "meant business."
"I had no issues with attendance, asking kids to push themselves or run hard because they all really wanted to be here," MacKenzie said.
A DAY OF VICTORIES AND A PROMISING FUTURE
Although the cross country team had an unusual and shortened season this year, it was full of success for the Eagles. They came home with many notable moments and wins from Thursday's meet to end off their season on a high note.
Outsprinting a MVHS runner by 0.1 seconds in a photo finish, senior Hans Holst placed second in his race and fifth overall out of 136 varsity boys, coming in at 16 minutes and 35.1 seconds. Senior Kevin Andrews, who missed most of the season due to a foot injury, finished fourth in his race and seventh overall with a time of 16 minutes and 39.1 seconds. Junior Amir Benhagouga, sophomore Joseph Falkenburg and senior Niels Holst followed after them, respectively, to add to the team's score.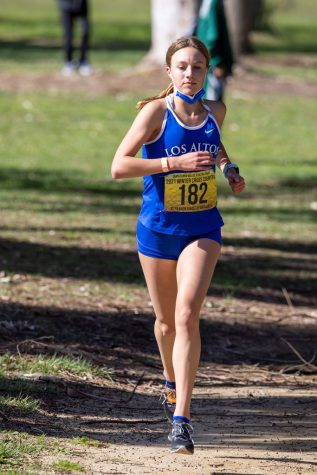 Meanwhile, sophomore Fiona Bodkin maintained her spot at the front during her entire race and took the win. She placed fifth overall out of 83 varsity girls with a time of 19 minutes and 39.9 seconds. According to MacKenzie, Fiona has been quickly improving as a more aggressive runner, and her times are only getting faster.
"The race was a little bit challenging and hard to pace, but it felt really good because I [broke my personal best] on this by a few minutes," Fiona said. "I think this season was my best season so far. The first race was not my best, but I've just kept improving."
Right behind her was junior Riley Capuano, who fought hard to pass a few runners near the end of her race in what was "probably her best race of the season," according to MacKenzie. She finished second in her race and seventh overall with a time of 19 minutes and 44.5 seconds. The next scorers for the team included freshman Maddy Randall, junior Cameron Cox and freshman Sasha Anderson, respectively.
The girls team has had a terrific season this year, scoring in the top three at almost every meet. The lineup for next year is also looking strong, with all current runners, as well as sophomore Lauren Soobrian, returning. Lauren was the fastest freshman girl in the state last year but missed this season due to injuries; nevertheless, she is planning to compete in track and field this spring.
Down the road, the ultimate goal for the girls team is to make it to the CIF-State Cross Country Championship — something that they haven't accomplished in nearly ten years. Additionally, they hope to beat a few school records and improve their ranking within the CIF-Central Coast Section.
MacKenzie noted that this year's varsity girls were very close in ability, meaning that they could train and race as a pack. Hence, they not only pushed each other as runners, but also grew closer as teammates.
"I just like doing silly things with them," Fiona said. "Before a race, we'll meditate or something and come together."
"They're just awesome," MacKenzie said. "We love them."
Leave a Comment