They've done it again: Cross country breaks three records at the CIF-State Championships
Thanksgiving dinner probably looked a little bit different for some of the top runners on the Los Altos cross country team. It wasn't because of some hardcore diet; it was because of the CIF-States Cross Country Championship.
While many Los Altos students were relaxing and enjoying the recent break, eight athletes—seniors Adam Sage, Daniel Ghasemfar and Adam Cohan, juniors Kevin Andrews, Hans Holst and Collin Hepworth and freshmen Lauren Soobrian and Boden Sirey—were preparing to compete with the top high school runners in the state. On Saturday, November 30, those eight athletes raced their hearts out at the CIF-State Cross Country Championships, held at Woodward Park in Fresno, and each one of them made history.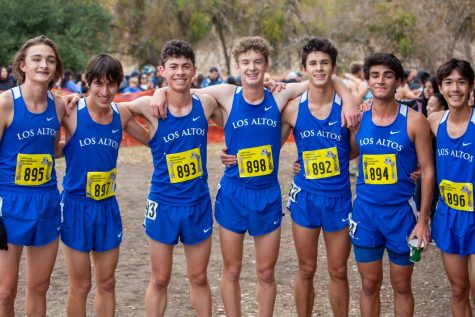 Lauren has consistently scored in the top three positions at both league and invitational meets throughout her impressive first season with the Eagles, so it was fitting that she broke the first record of the day. Lauren ran her way into fourth place in the Division 1 Girls Race, running a school record-breaking time, as well as a personal record (PR) of 17:42.7 on the 5K course. 
"My strategy was mainly not to go out too fast and to settle in with the front pack," Lauren said. "Overall, the race felt really good."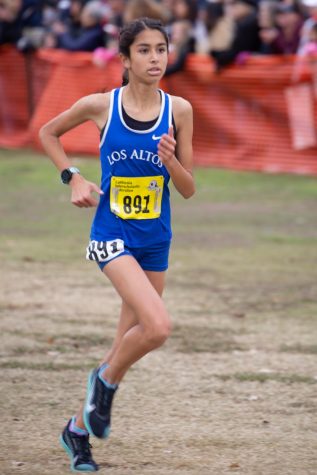 Breaking a school record was not the only notable thing that Lauren accomplished at the State meet. In what head coach Steph MacKenzie called "an incredible end to an incredible season," Lauren's record-breaking race also solidified her spot as the fastest freshman girl in all of California.
"It means a lot to me and it makes me feel really confident going into the next cross country and track seasons," Lauren said. 
Throughout the season, MacKenzie has talked about watching the firecracker freshman chase school records and train alongside the varsity boys.
"The goal was just to get her through the season without injury, to have her enjoy her freshman season and progress," MacKenzie said. "Her state race was definitely her fastest race of the season, and that's all we ever look for."
The second record of the day was broken by Adam Sage, who ran a time of 15:27.2 and finished in 21st place in the Division 1 Boys Race. This is the fastest time that any Los Altos boy has ever run on the Woodward course. 
"Going into the season, I was a little worried since I wasn't able to meet a lot of my goals from the year before, but I ended up finding much more success this year," Adam said. "Not only that, but it's been awesome to get to spend my last year with such a great group of guys on the team."
Adam can't wait to get back into training, but for him, it won't be with the Eagles. While he hasn't officially committed to a specific university yet, Adam is likely to continue his cross country career at a Division 3 program.
"I fully plan on running throughout college and [after]," Adam said. "I don't intend to run professionally, but I do want it to be a big part of my life."
MacKenzie was quick to praise Adam for his leadership skills and dedication to the team, noting that she has seen him improve over his four years.
"When it's time to train, he works hard. He's willing to jump in any race or do anything for the team," MacKenzie said. "He's just set the tone of what we're trying to achieve." 
This tone of team spirit was a key part of the team's third record of the day. The varsity boys team came together to run a total time of 81:05, breaking their previous record by 30 seconds. This is the third year in a row the boys team has broken the Los Altos record at Woodward, and they finished in 16th place overall.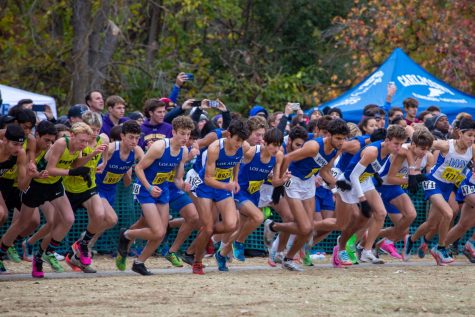 "It's hard for anyone who has never witnessed the State meet to comprehend the level of talent and depth there," MacKenzie said.
Kevin placed 56th and Daniel, Boden, and Adam Cohan placed 120th, 126th, and 134th, respectively. Hans finished in 146th place and Collin placed 177th.
"The team component of cross country is definitely underrated, and it is huge," MacKenzie said. "When they're out there running for their team, they know they're depending on each other to break that school record. They just push themselves like nothing else." 
And it was well worth the push. With three new times going up on the school record board and the fastest freshman girl in the state, it's safe to say the cross country team has made the Eagles very proud this season.