Fernando Sepulveda: an unexpected stride forward
Freshman Fernando Sepulveda began his running career in sixth grade at the Loyola Elementary School Walkathon. Along with a few of his friends, Fernando entered a friendly competition to see who could run the farthest and earn a trophy. Fernando ended up running 80 consecutive laps and winning first place.
Once Fernando discovered his talent for running, he began running competitively in the sixth grade Junior Olympics and continued running for the Egan Junior High School cross country team.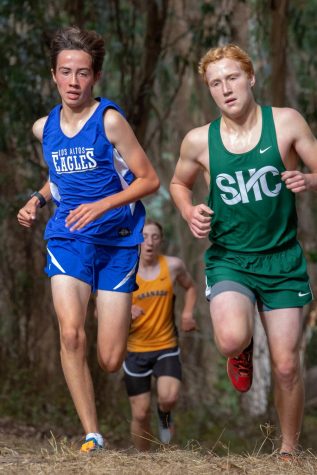 "I've always been inspired by my mom running marathons, so I've always tried to run farther," Fernando said. "It hasn't been until lately that I've started getting fast. I've always been about running hard and just having fun with it."
Now, only a few weeks into the season, Fernando has grown and improved tremendously as a runner on the Los Altos boys cross country team. The competitive yet supportive nature of the team motivates him to run faster during every practice.
"We have such a strong team that it's really just about getting better every day," Fernando said.
Fernando's effort during practice has paid off, So far, he has been performing extremely well. In his first race of the season, Fernando competed against 276 runners and placed fourth in the freshman boys race at Lowell Park in San Francisco. Fernando was pleasantly surprised at the competitors he beat and he earned the Athlete of the Meet. However, Fernando's success has come as a surprise to him.
"Honestly, I came out here just to run," Fernando said. "I expected to be decent, but definitely not the top freshman runner [and] definitely not competing for a top 14 spot. Sometimes [hard work] just pays off."
"
I've never been that good at running, to be honest. It's really been interesting how I've grown and the hard work has started to pay off.
— freshman Fernando Sepulveda
Fernando is interested in seeing where his running career takes him. His goal for this October is to beat his record of running 80 laps nonstop from sixth grade and he hopes to someday qualify for and run in the Boston Marathon. While Fernando hopes to run for a college team in the future, for now, he is still getting used to the pleasant surprise of being fast enough to score points for his team.
"I've always loved running and I've always worked really hard at running," Fernando said. "But I've never been that good at running, to be honest. It's really been interesting how I've grown and the hard work has started to pay off. "