Bennett assumes role of English Dept. Coordinator, Survey pilot comes to a close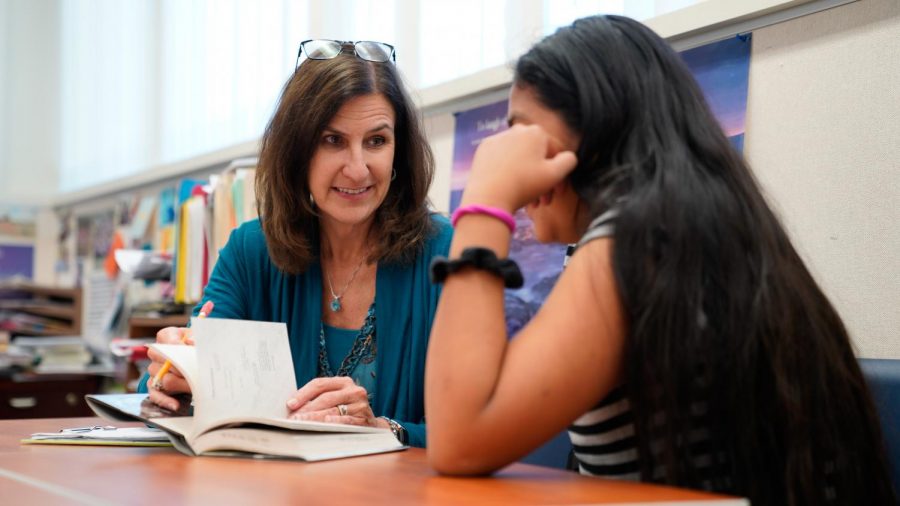 English teacher Margaret Bennett has assumed the role of English Department Coordinator as the department adjusts for the remote fall semester and makes curriculum changes. Most notably the department is integrating the English pilot program into the main Survey course, as the program comes to a close.
Bennett — who has 18 years of English teaching under her belt — takes the place of her predecessor, Michael Moul, whose standard six-year term has expired. Last year, Bennett taught the sophomore World Literature Honors and freshman Survey of Composition and Literature courses.
"My personal goals include creating a department that is welcoming, inclusive, collaborative and safe where all voices are heard and valued," Bennett said. "We are smarter together!"
Bennett was one of two teachers to originally spearhead the freshman Survey pilot program, which started in 2017. Last year the pilot program, which emphasizes free reading and increasing comprehension levels, took up a third of all Survey classes.
While much of the pilot curriculum mirrored the standard Survey course, it deviated in its required course readings; students were able to choose their own free reading books and hence averaged a total of 25 books in a year, compared to four books in the normal Survey class.
By doing this, the course team hoped that students would develop a stronger passion for literature and build reading stamina — something that will prove useful beyond high school. Concurrently, students didn't lower their academic performance compared to their peers.
The department has since decided to end the pilot program and is planning to integrate its best aspects into the standard Survey course for the second semester, based on whether in-person or distance learning will take place then; the first semester matches last year's curriculum. With libraries currently closed, many students are unable to choose free reading books, but Bennett hopes that by January she will be able to assign her students self-selected reading.
The curriculum is tentative, Bennett noted, as teachers throughout the English department are continuously making adjustments in light of distance learning. According to Bennett, the lower number of instructional hours that the remote learning program affords teachers means that they will have to prioritize the skills they teach students, including expository writing and close reading.
Nevertheless, Bennett said it's encouraging to know that the English department hasn't let up in the face of these adversities.
"[Preparing for distance learning] has led to some outstanding conversations among course team teachers," Bennett said. "We have an incredible set of dedicated teachers and support staff and I'm truly proud to be part of such a fantastic, inspiring group of professionals."