Freshman Survey pilot class adds two new teachers
As the freshman Survey of Composition and Literature pilot program advances through its third year at Los Altos, two new English teachers—Susana Herrera and Bruce McCormick—have been added to its ranks. With these additions to the existing team of English teachers Margaret Bennett and Carrie Abel, the pilot is now taught in a total of eight Survey sections and one Survey Skills section. 
The pilot program, implemented in a third of all Survey classes, takes a different approach to freshman English than regular Survey. By making free reading a large part of its curriculum, the program hopes to increase both reading volume and comprehension levels amongst its students.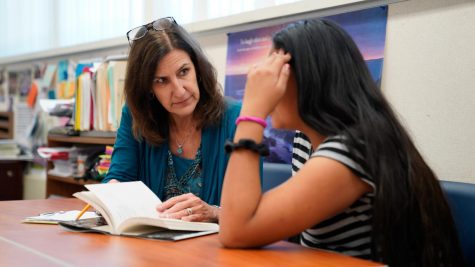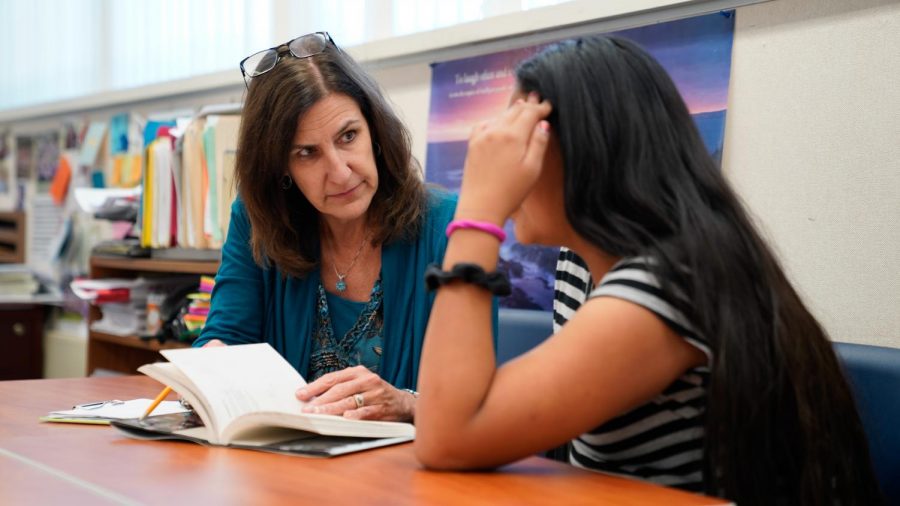 "One major goal specific to the pilot is to support increased reading stamina," Bennett said. "It's difficult to succeed in college without stamina. We know that these kids are 14 years old but you have to start somewhere." 
While the push for increased levels of reading separates the regular from pilot Survey programs, much of the major structure between the two remains the same. 
"In terms of requirements and major assignments, [the two] are actually very similar if not exactly the same," Abel said. 
About a third of the major units taught in the regular classes such as "To Kill A Mockingbird" and poetry are a part of the pilot. However, free reading in the place of other class books like "Of Mice and Men" and "Romeo and Juliet" sets the two curriculums apart. 
"[In the regular Survey classes], students are only reading four books for an entire school year," Herrera said. "That just isn't enough volume. [Students in the pilot classes] are reading 25 books a year, which is what we need for students to be successful in college." 
Students are expected to read 125 pages a week from their chosen books to be eligible to receive an A for their free reading grade. The page expectations can be changed, especially if a student is reading a challenging book. Student-teacher book conferences also play a role in students' grades. 
Since teachers haven't necessarily read all the books that their students choose, book conferences are held after a student completes each book. These conferences allow teachers to determine if their students are properly comprehending their chosen texts. 
"It's pretty easy to tell who's reading and who's not during the conferences," Bennett said. "A lot of times if a student hasn't been reading, they'll admit it once I start asking them questions." 
By giving advice to students selecting their own books, the pilot teachers hope to match their students with texts that are appropriate for their reading experience. Students take a lexile level test at the beginning of the school year which gives teachers a rough estimate of the level at which they should be reading.
"It makes so much more sense for me to match a student with a book at their level so that they can make sense of it," Herrera said. "If a student's coming in at a fifth grade reading level, they're not actually going to catch up by reading at a college level." 
Teachers push students to find the right balance between comprehension and challenge, with the goal of increasing reading stamina and establishing a love of reading. 
"I enjoyed [choosing my own books] because class books aren't usually to my interest," sophomore Miguel Procopio said. "I got more into the books I chose and read a lot more."
According to Bennett, student choice isn't coming at the cost of lowered academic preparedness or performance. 
"We've seen tremendous growth from kids, especially on the lower end [of the lexile scale]," said Bennett. "We looked at the grades and kids are just as—if not more—prepared for their sophomore year." 
While teachers like Bennett are supportive of the program, some students and teachers aren't sure if it's ready to be implemented as a standard class just yet. 
According to sophomore Keshav Shah, a former student in the regular Survey class, the lower reading volume wasn't necessarily bad as it allowed him to delve deeper into the meanings of the assigned literature with the guidance of his teacher, something that he enjoyed. 
"If I had read more books, I wouldn't have had the time to fully get into the meanings of each book," Keshav said. 
Additionally, teachers like Abel are still unsure about the trade-offs that free reading brings. 
"There are things that I still don't feel 100 percent great about," Abel said. "[In the first unit] we're choosing to favor allowing students to figure out what types of books they like to read and then we're not teaching them how to write as well as I would like."
Bennett also agrees that there are some drawbacks to the program. 
"[Teaching the pilot] is probably a bit more work for me," Bennett said. "There are definitely a lot more balls that I'm juggling in the air, but the trade-offs are worth it." 
According to Bennett, the pilot engages her students in a way she's never seen before.
"Sometimes I'll see [former students] in the hall and we'll still talk about books," she said. "I've never had that before, and it's really cool. Freshman year… gives us the chance to establish a love of reading." 
The department hopes to make a decision as to the future implementations of the pilot this school year. In the event that the pilot isn't incorporated into the regular Survey curriculum, teachers still feel like they've gained experience from the program. 
"I don't think we've necessarily created a perfect curriculum, but I think that I've learned a lot about myself as a teacher," Abel said. "Even if we end up sticking with the more traditional Survey I think we've definitely made gains in understanding the value of independent reading."