Winter sports updates
Varsity girls soccer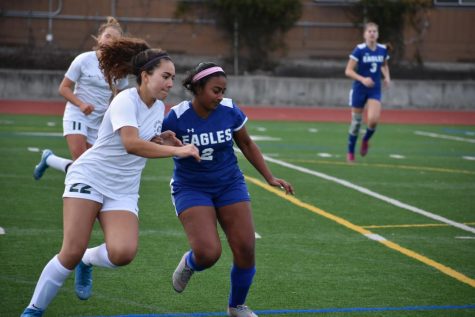 The girls varsity soccer team began their season on shaky grounds, as they suffered a 0-2 loss against Homestead High School in their first league game of the season. Since then, the team has had its ups and downs in both practice and during games, according to the players.
Despite the rough start to the season, the team has worked hard together to improve their game play, while still adjusting to having a brand new coach. The Eagles' strongest game has been the rivalry match on Friday, January 10, where they tied 1-1 on Mountain View's turf. During this game, the team was able to pick themselves up from the previous losses in other games and exemplified the skills they had practiced in the weeks before the game.
The girls have worked relentlessly during practice and were able to improve their game in terms of playing together as a team and strengthening their winning mentality, while also working on core skills such as their offense play. Their next game is an away game on Wednesday, January 22 against Los Gatos.
"The Mountain View game was a good game because we were all amped up and motivated to do our best," junior Sarah Stoops said. "We used each of our individual skills but we also came together as a cohesive team to pull through."
Varsity boys soccer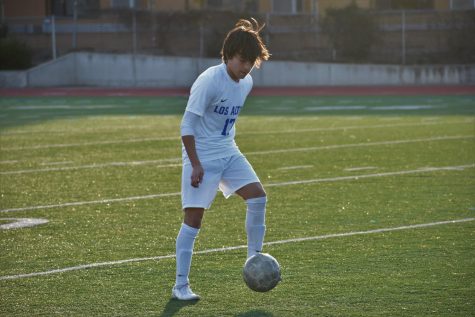 The varsity boys soccer team is currently ranked in the middle of their league out of seven teams with an overall record of 3-3-3. After being removed from CCS due to behavioral misconduct last season, the team is more excited than ever to prove themselves this year.
Given that this season is a fresh start for most players, the team is more dedicated than ever to improve their team chemistry and eventually to win CCS. According to head coach Roberto Magellan, consistency and team synergy will be a crucial part of their success.
"One of my main goals even before winning league or CCS is to keep everybody engaged," Magellan said. "The composure of the players is what's going to help us win games and perform well in the future."
Since the start of the season, the team has shown that they have the strength to bounce back from tough losses. After suffering a disappointing 0-3 loss against Homestead, the team took the time to fix figure out what they needed to improve upon for their next game. Their midfield and defense was significantly stronger when playing Mountain View a few days later, and they were able to tie one of the top teams in the league.
"The dedication of each player to comeback comes from the heart," Magellan said. "If they are able to transfer it onto the playing field, I think we can prevail any day."
Varsity girls basketball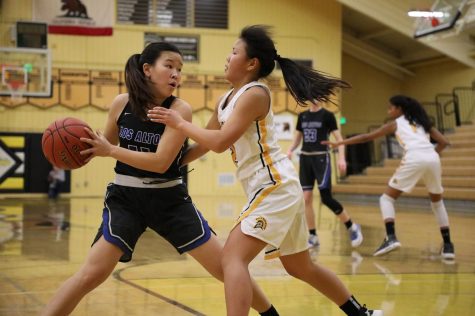 After a mixed non-league season, the varsity girls basketball team has opened the league with a 2-3 record, with two wins against Saratoga and Wilcox and three losses to Lynbrook, Cupertino, and Los Gatos. In addition to the league games, the team played a non-league game against the rivalry team, the Mountain View Spartans and won 32-30.
Despite some hindrances facing the team, they were able to pull off a win against Mountain View.
"We were down three players and the rest of us were beat up from playing Lynbrook the day before," sophomore Ella Neugebauer said. "Mountain View always comes to compete, so we were expecting a battle, but I had faith in our teams ability to out-perform Mountain View."
A challenge for the Eagles has been having point guard junior Mone Sekiguchi out on injury. In addition to Mone, two other players missed the Mountain View game.
Despite the challenges, having players missing at the Mountain View game had unexpected benefits.
"People who don't usually get a lot of playing time stepped up a lot and everyone was involved in the win," sophomore Abby Lu said. "It was a team win, which we love to see."
On Tuesday, January 21, the team lost 32-37 to Los Gatos.
"I think the biggest factor in our loss [against Los Gatos], and a weakness we've had throughout the season is passing," Ella said. "We had a lot of turnovers from bad passes."
Although still a loss, Ella considers it to be an improvement from last Friday's loss against Cupertino.
"We had a lot more energy than our last game, which I think was part of what helped keep the game close," Ella said.
Varsity boys basketball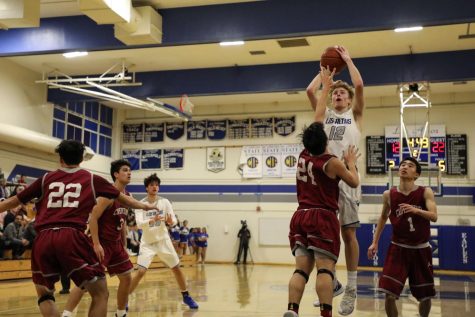 Varsity boys basketball started their league season with a highly-anticipated rivalry game against the Mountain View Spartans. The well-advertised game drew out large crowds despite the game being held during break on the Spartan's home turf. Since then, the team has continued their winning streak, defeating Milpitas and Homestead High Schools. Los Altos barely scraped by on Friday, January 17 against Cupertino, winning by one point.
"I would say our strength is our overall height at all positions which helped us get some steals and our weaknesses were probably our [lack of experience]," junior Brock Susko said. "We got a lot of new guys and [Mountain View] lost some of their players last year, which made the matchups different."
Half of the team this year is new to varsity and all three of the sophomores are starters for many of their games. The returning members are learning how to play on the strengths of their new teammates while also creating new bonds.
"It's not uncommon for teams to have small groups where certain teammates rarely interact, but for [Los Altos] that's not the case," junior Charles Sirey said. "The returners have done a great job of making everyone feel comfortable and included, so we operate more as a unit instead of multiple small groups. It helps us come together as a team and makes playing a lot more enjoyable."
Wrestling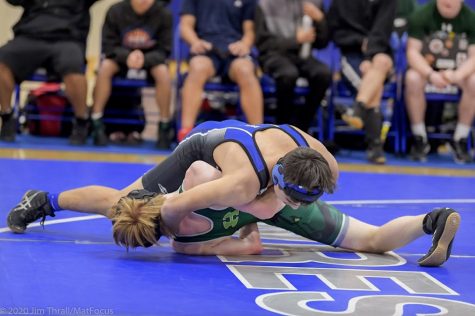 Under the new head coach Jim Thrall, the wrestling team has established a new practice routine based on the US Olympic squad. In addition to new technical instruction, Thrall is focusing on growing the athletes as a whole—teaching them the core of leadership and communication. The atmosphere of practices is intensely focused and self-functioning: even when coach Thrall is gone, the team can run itself under the leadership of team captain junior Sam Nath.
Unfortunately, the Los Altos wrestling team is still working towards their first victory of the season. This is largely due to the team's small size of seven varsity athletes, as of last meet. They must forfeit each match where they have no wrestlers to represent the weight class, which for Los Altos, this is half of the total matches. The team has not let off the gas, though. Senior Tyler Kim feels that they are still the same highly motivated team that they were at the season's outset.
One point that assistant coach Rafael Garcia drives into the team is not to dwell on failures. He focuses on improving the athletes one day at a time, rather than overanalyzing past meets.
"All you can do now is continue to move forward," Garcia told the team after their loss against Mountain View. "This day is done with, don't look back ever again at Mountain View. Look forward, and go to work next week."
The team has their next meet against Santa Clara High School on Thursday, January 30.