Los Altos welcomes new coaches to the team
December 13, 2019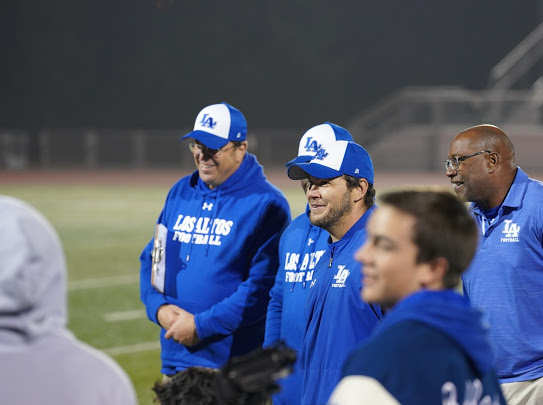 Courtesy Chang-man Park
Football coaches
The running back leaps into the air and catches the quarterback's perfect spiral. The stands go wild, cheering on the players for their triumph. Yet what many people don't see is the countless hours the coaches have spent improving their players' technique. The number of times the running back dropped that pass, the number of times his coach had to correct his technique, the hours of film his coaches took him through. At Los Altos, this has been exactly what the nine new additions to the coaching staff have worked on, as they focused on teaching the essential skills to the football team.
After the previous head coach Trevor Pruitt resigned due to challenges with the administration, Los Altos filtered through 22 applicants until finally choosing Dave DeGeronimo as head coach. DeGeronimo has been the uniting force behind the nine new members of the coaching staff.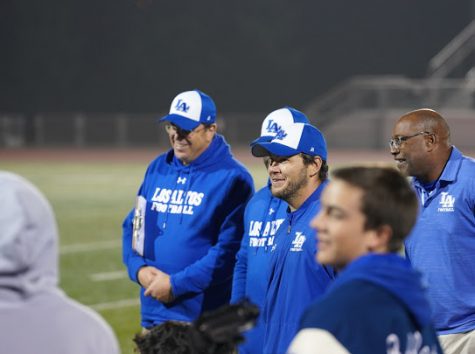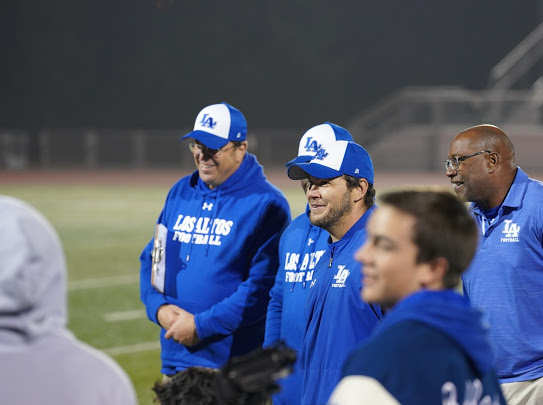 Commonly known as "Coach D" to his players, DeGeronimo has always had a passion for football; yet, his journey to becoming a coach was not straightforward. He was a football player in middle school and high school, but he hadn't fully committed to the sport as he split his time playing baseball and basketball. Finally, as DeGeronimo's positive experience in high school led him to play college football at the Catholic University in Washington, D.C.
Before becoming a coach, DeGeronimo and his wife owned No Excuses Fitness, a private fitness facility, for 27 years. During one of their exercise sessions, DeGeronimo was at Palo Alto High School to rent the field for their fitness class and, "on a whim," he asked the athletic director if they needed a football coach. He was then accepted and took on his first coaching job and then went back to school at Notre Dame University to get a teaching credential.
From there, his coaching career only grew, as he held positions at Palo Alto High School, Sacred Heart Prep and Aragon High School. This year, he brings a thorough knowledge of the do's and don't's of coaching to the Los Altos team. Combined with his experience teaching P.E. at Green Middle School for 14 years, DeGeronimo has worked to blend his personality as a teacher into his coaching style.
"Teaching and coaching are one and the same," DeGeromino said. "If you're a good teacher, you can be a great coach."
DeGeronimo's focus this season has been on building a football IQ, which is the basis of football understanding. His players have taken notice of this shift, which has been noticeably different from last year's coaching style.
"I think there's been a real change in the pace of practice," junior quarterback Charlie Kinne said. "It's more football oriented instead of [goofing around]. I've learned a lot more about football this year with the new coaches compared to the last two years at Los Altos."
Not only has DeGeronimo rebuilt the tactical foundations of the team, but he has worked to forge long lasting bonds with his team.
"It's a real brotherhood when you play football, a real connection, a real chemistry," DeGeronimo said.
This message of brotherhood was a common goal for the staff throughout the season, as offensive line Coach Steve Rochlin emphasizes.
"The field is just a symbol for life," Rochlin said. "When these guys work together, they learn teamwork and if they work hard, they can achieve certain things. If they don't pay attention or work hard, then their results won't be there."
Rochlin's coaching wisdom and passion stem from his experiences coaching football and lacrosse for more than 20 years. Rochlin has an extensive background as a multi-sport athlete, as he played football, crew and rugby at the University of California, Berkeley.
"I have a passion for coaching and developing," Rochlin said. "I've coached at the junior college level and high school. I've coached about four or five different schools and done all positions."
Currently, he coaches for the Alameda Attack lacrosse team and volunteers to coach the Los Altos team. Rochlin was recruited by DeGeronimo to join the coaching staff, as the two worked together at Palo Alto High School in the past.
Rochlin is not the only coach at Los Altos with old ties to DeGeronimo. Defensive coordinator and offensive line coach Vince Juarez also coached at Palo Alto High School with DeGeronimo and Rochlin.
"[Juarez] and I met when he was a freshman transfer at Palo Alto High School," DeGeronimo said. "I was a young coach there and he was a freshman football player. A very good one."
Juarez coached for 14 years after playing at the College of San Mateo. He has coached at Palo Alto High School, College of San Mateo, and several private schools.
"From a really young age, I enjoyed the technical and tactical aspects of the game," Juarez said. "So after I was done playing, I felt I had more football in me and I didn't want to be done with it."
Even when Juarez is off the field, he is never far from his athletes. He can be found around campus at Los Altos, working as an instructional one-to-one assistant for students. When off campus, he continues his mentoring skills while working as a trainer for police dogs.
Through a web of connections revealed from past jobs and schools, Los Altos also welcomed defensive back coaches Robert Mitchell and Nigel Smith, who is also the running back coach, to the varsity coaching staff.
For junior varsity, head coach Victor Martinez was the only remaining member of last year's staff to remain at Los Altos. As wide receiver and quarterback coach Nick Lobao, wide receiver and running back coach Wes Okumura and offensive and defensive line coach TJ Jackson were introduced to Los Altos.
"I just try to get our guys dialed in," Juarez said. "Playing their absolute very best on every play that they can so they can go out, have a good time, represent the school, community and the people that are in the stands and have fun."
Badminton – coach Michelle Nieda
As the spring season approaches, Los Altos's badminton team is excited to welcome Michelle Nieda as the new head coach. She is the third head coach the team has had in the past three years.
Nieda was first introduced to badminton at her high school, where her badminton coach encouraged her to apply to a college that other players were also attending. Heeding that advice, Nieda attended UC Davis with a badminton player from Gunn High School. While there, she joined their student-run badminton club and graduated with a bachelor's degree in exercise physiology. After college, Nieda continued her love for sports by coaching different teams in her free time.
"Whenever I had the time and extra funds to be able to do jobs [on the side], I really had a lot of fun and always enjoyed [the sport-related ones]," Nieda said.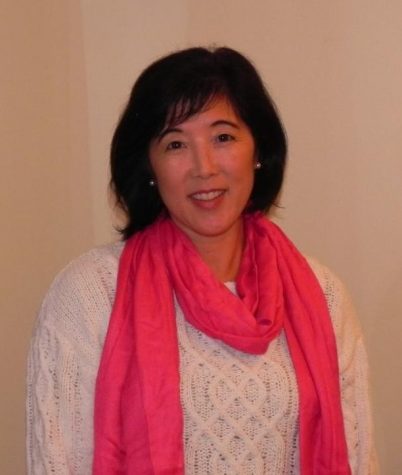 Since then, she has coached various teams, ranging from basketball to track and field. However, badminton has been her favorite to coach so far.
"Two years ago I recognized that I felt [drawn] toward the badminton team," Nieda said. "I watched the kids play and approached the varsity coach. I said, 'Hey, I love badminton. Can I be your volunteer coach?' He said, 'Yeah sure' and I [went from there]."
This year, as well as being a guidance counselor for the school, Nieda is taking her final step up the ladder and becoming head coach of the team. With over 100 students trying out for the team, Nieda has been getting a head start on the upcoming season by hosting open gyms—anyone can come and practice badminton with other students.
"I tried to give the kids opportunities to figure a lot of things out before tryouts," Nieda said. "I think that's something that can really help the new kids coming in and also invigorate the team as a whole as it starts the season."
Nieda is inspired by the developments in the badminton community as it has become more and more mainstream in the past decade—when she was playing at UC Davis, badminton hadn't even become an Olympic sport yet. She is excited to be a part of this new movement and hopes more people join in on the fun.
"[UC Davis] didn't even have a [competitive] boys team, and now there's boys and girls clubs," Nieda said. "There are places for people to practice and play—it's a growing industry. I'm really proud to be a part of Los Altos High School."
Wrestling – coach Jim Thrall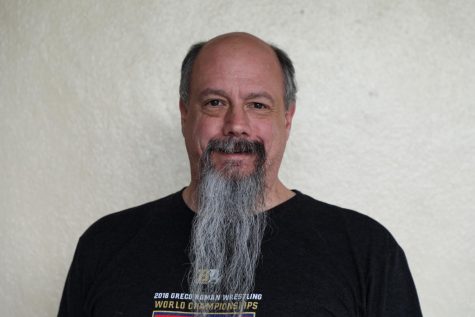 Los Altos wrestling coach Jim Thrall started his wrestling career after being cut from the basketball team. He wrestled as a "secondary extracurricular" in high school, but committed himself to the sport at the United States Merchant Marine Academy, where he competed at the Division III level. He has since worked as an international photographer, traveling the world to watch wrestling championships and contract photographs for the athletes. His extensive involvement in the international wrestling community allows him to maintain high-level connections with professional wrestlers and refine his coaching philosophy.
Thrall's passion for wrestling is immediately evident in the wrestling room, where, until December 9, practices ran for nearly 3 hours. Within cramped walls and sweaty mats, Thrall hopes to transform everyone on the team into individuals of confidence and empathy. Any student is welcome and encouraged to try wrestling; in fact, the first thing that Thrall emphasizes as a coach is the accessibility of wrestling.
"Anybody can wrestle," Thrall said. "Any physical body. You can be blind, you can be deaf, you can be missing a limb, you can be missing multiple limbs, you can have cognitive disabilities. You can still wrestle and compete on a level playing field."
Thrall aims to give each wrestler individualized attention and guidance through the entirety of practice, starting when the athletes warm up with a simple game of handball. Athletes are split into two teams with the sole aim of keeping possession of the ball by running and passing the ball. During the exercise, Thrall looks for hints of aggression or sluggishness that might give him a better idea of each athlete's attitude that day. His philosophy unfolds from there.
"I've already had situations with this team where someone has told me I had a really bad day today, I don't think I'm going to come to practice," Thrall said. "I've encouraged them to come in, and I've said one of the things we can do here is you can emotionally be present even if you have problems on the outside."
However, for Thrall, an individual sport does not lessen the importance of a compassionate community. This season, he looks forward to the empathy and leadership already visible in the Los Altos wrestlers.
"We've got some guys and gals that came out in the preseason, they worked out with us, but even though they weren't doing a fall sport, they didn't lack in leadership," Thrall said. "And even ones that did a fall sport are really starting to demonstrate some of the leadership qualities that I like to see in our athletes."
Overall, Thrall is bringing a change not only to how fundamentals are taught, but also to how he creates a community where students will grow beyond the mats.
"I really want to be a coach that builds a program that is greater than a transactional opportunity to wrestle and then go home," Thrall said. "My coaching philosophy is to help boys and girls become men and women of empathy and integrity; to lead, be responsible and change the world for good."
Soccer – coach Roberto Magellan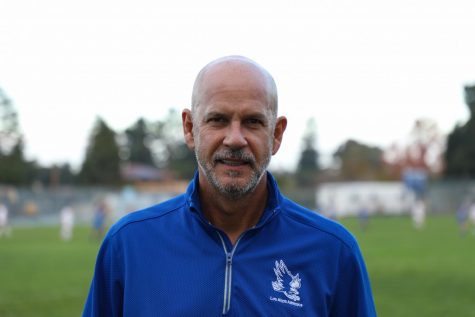 The boys varsity soccer team kicked off the new season with a new head coach, Roberto Magellan. Eager to bring fresh ideas for the team, Magellan looks forward to seeing growth in his players throughout his first season as the head coach.
After a demonstration of poor team sportsmanship last season, former head coach Vava Marques made a personal decision to step down. He said this was a difficult choice that he wasn't happy to make, and only hopes for the best for Los Altos in the future.
"I am very sad that I'm leaving after coaching here for 20 years," Marques said. "I coached for as long as I did because Los Altos and the soccer program are very dear to me."
Magellan, coincidentally a former teammate of Marques's, is coaching the boys varsity team after being encouraged to do so by a player on his club team who goes to Los Altos. Magellan is no newcomer, as he has been coaching for over 20 years. He even coached the varsity girls soccer team at Los Altos from 2005 to 2008 and they made CCS twice during this period. Magellan's success in the past was a factor in his decision to return to Los Altos this year.
"I looked at the banners [inside the gym] and five of the girls I coached were listed as athletes of the year," Magellan said. "Seeing their names up there gave me a feeling of pride that's rare these days."
According to Magellan, growing up in Brazil was what sparked his love for the game. At age 11, he was organizing teams and refereeing the older kids during their matches. Later on, Magellan began working as a manager for various soccer teams and was a player for the famous Brazilian soccer team, Flamengo. After immigrating to the US in 1982, Magellan insisted on incorporating soccer into his life.
"Loving soccer was a way of life for a lot of us Brazilians," Magellan said. "Once I moved here, I started coaching even before I knew how to speak English."
After years of coaching, playing and managing, Magellan said he has developed a burning passion for the game. Constantly immersing himself in the soccer culture encourages him to inspire that same passion in others.
"Similarly to how a teacher helps educate their students, I want to pour my passion for the game onto the players," Magellan said. "Whoever has the passion for something needs a canvas to paint a picture."
Magellan hopes that his dedication towards coaching will help the Eagles succeed in their upcoming season. One of his goals is to have the team place well enough within their league in order to advance to CCS. Last year, the varsity boys soccer team qualified to compete in CCS. However, after many altercations with referees and instances of poor sportsmanship, the administration pulled them from the tournament. After the disappointing ending to their previous season, Magellan knows this season will be crucial for the morale of all of the players.
"The boys will need this season to bounce back from whatever frustration took place last year," Magellan said. "It's a new beginning for them."
After the team won their first game 3-0 against Santa Teresa last Friday, December 6th, Magellan's coaching seemed to already have a positive impact on the individual players and the team dynamics.
"Coach Magellan looks at us individually and often give us positive criticism when we make mistakes," junior Alessandro Sisniegas said. "This, along with his game knowledge, has helped our overall team chemistry improve."
But more importantly than winning any title, Magellan wants the players to appreciate being a part of the team. He believes that playing for a community is something that many players may not experience every again, and he wants this to be what the players prioritize throughout this season.
"CCS and the league would be great, but more importantly I want to allow them to enjoy themselves," Magellan said. "The team doesn't just represent the 11 kids on the field and the kids on the bench, but rather the school itself."
Cheer – coach Brandon Gilchrist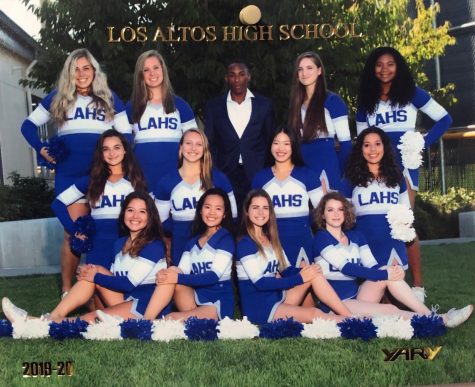 The varsity cheer team continues to spread spirit around the school and sporting events with new head coach Brandon Gilchrist inspiring students with his infectious positivity. Gilchrist is currently balancing cheer coaching with his full-time job of event planning for a global corporation.
Gilchrist has been coaching at All-Star Cheer since 2014, so he is not new to the coaching world. Since age seven, he has cheered competitively for All-Star, cheered for his high school and college teams and won various competitions ranging from States to Nationals to Regionals.
As soon as he saw the advertisement for the Los Altos High School Head Cheer Coach position, he took the chance and applied. Gilchrist came into the job with boundless spirit and excitement for the upcoming cheer season. He is glad to bring the experience he has under his belt to the team and continue his love for cheer by coaching the Eagles.
"I've always loved high school cheer more than competitive cheer, for different reasons," Gilchrist said. "It's more school spirited, it's a lot more well-rounded and you learn a lot more as a high school cheerleader than a competitive cheerleader. So, there was a need for it, I took a chance and applied and I got it."
With his recent move from the East Coast to California last January, Gilchrist has had to adjust to his new lifestyle.
"I think what has been a challenge is just being new and not knowing how cheer is in California," Gilchrist said. "It's a lot different than the East Coast where I'm from, where I cheered at."
Although there are inevitable challenges that come with moving to a new place and getting to know a new team, Gilchrist has been able to forge solid relationships with the girls and build a strong team dynamic. For the upcoming seasons, he hopes to get the team to build more school spirit around the campus and the Los Altos community.
"I want the team to get more involved with the school in the sense of helping spread that camaraderie amongst the students in the school, helping build every athletic team and boost their energy, getting the student body involved and getting people out to games and supporting the school," Gilchrist said.
Gilchrist's new addition to the team has been an adjustment for both the cheerleaders as for him as well. The team has changed techniques, performed more complex stunts, and gotten closer together.
"This season has been a very different experience for a lot of us who were on the team last year, but it has also been very cool to see the different way he coaches and how our team has improved because of it!" Junior Sophia Hurst said.