Winter Sports Awards Recognize Athletes and Teams
The Los Altos Athletic League presented the winter sports awards on Wednesday, March 27, in a ceremony held annually to recognize and honor student athletes. Coaches and teammates congratulated the distinguished girls and boys in the basketball, soccer and wrestling teams as they stood in the gym, their parents looking on in the stands. The student athletes won awards given based on either the coach's selection or a vote from the team.
The ceremony commenced with the recognition of students with a 3.5 GPA or above, and students with 4.0 GPAs received certificates. Each team then stood at the podium for a commendation by the coach, while members received individual awards and recognitions. The individual recognitions included awards for players who had participated for four years, the most valuable player, the best incoming player, the most inspirational player, the best offensive player, the best defensive player, the most improved player and the player receiving the coach's award. All of the coaches then gave speeches about both individual players and the teams as a whole.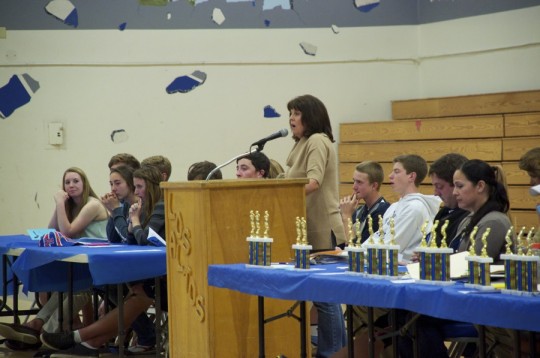 Basketball–Boys Varsity:
League Record: 12-0
Overall Record: 17-7
Basketball–Boys F/S:
League Record: 4-8
Overall Record: 9-14
Basketball–Girls Varsity:
League Record: 11-1
Overall Record: 18-6
(Co-league Champions)
Basketball–Girls JV:
League Record: 2-10
Overall Record: 4-18
Soccer–Boys Varsity
League Record: 2-5-5 (5th Place)
Overall Record: 4-9-5
Soccer–Boys Frosh-Soph:
League Record: 4-2-6
Overall Record: 6-3-7
Soccer–Girls Varsity:
League Record: 10-5-3 (3rd Place)
Overall Record: 7-3-2
Soccer–Girls JV:
League Record: 4-7-1
Wrestling–Varsity:
League Record: 0-6
Wrestling–JV:
League Record: 0-6
[Photo by Ciera Pasturel]
Leave a Comment