School district to restructure bell schedule
Later start times might not be the only things the Mountain View-Los Altos (MVLA) district is changing next year; the format of the bell schedule, including period length and end times, will likely be restructured as well.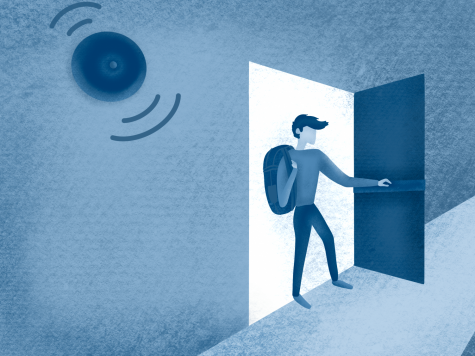 MVLA School Board president Dr. Phil Faillace explained that new legislation on 8:30 a.m. start times are an opportunity for the district to re-do the bell schedule for more efficient and effective learning, not just a mandatory twenty-minute shift. The new schedule, in theory, would increase students' academic performance and overall educational experience.
In deciding on a new bell schedule, the district is looking at a variety of considerations, such as teaching efficiency, student stress, instructional minutes and transportation. To proceed, there must be general agreement from teachers, the District Teacher Association (DTA), both high school administrations, students, parents and the school board itself.
In April of last year, the district hired Hanover Research, which provides research and analytics, in a three-year subscription with an annual cost of $37,500. Under this contract, the school board can direct Hanover's resources to whatever area is deemed necessary. Among other projects, Hanover has been used to perform in-depth research into possible bell schedule changes, including the collection of student, parent and teacher opinions. The results, released at the MVLA School Board meeting on Monday, October 21, explore different types of schedules with combinations of single and block period days. Though there seemed to be some general opinions, the differences were mostly marginal.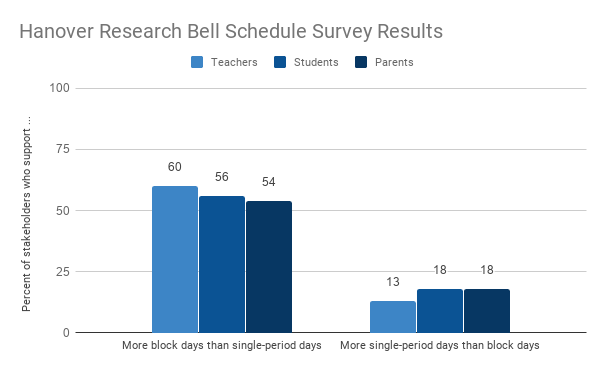 At least half of the respondents either somewhat or strongly supported a schedule with more block days and fewer single-period days. Less than 20 percent of stakeholders support a schedule with more single-period days and fewer block days.  
In terms of the ability to cover material in-depth, the amount of material covered and the quality of teaching, a majority of all stakeholders believed block days to be better or the same as single-period days. In terms of attention span, however, the data was less conclusive.
Senior Oliver Yu, Los Altos' student representative for the school board, attended a DTA meeting on the topic. 
"It seemed like most people were leaning toward having four block days and then one day with all seven classes," Oliver said. "It's easier in terms of workload, and [students] are able to develop or learn more in class when it's slightly longer."
Despite the findings from both this meeting and the survey results, however, there are still concerns about the potential adjustments. For example, some departments may benefit from an increased number of block days while others may be disadvantaged.
"In math, there's a preference for short periods, with maybe one or two concepts explored because the attention span seems to be in the range of 20 to 25 minutes," Faillace said. "In history, though, having longer periods—70 minutes or so, maybe more—would be beneficial because you can organize students in groups and assign them a certain project. You need time to do that."
Some teachers and students are also concerned that a shifted start and end time for school might drastically change travel times because of traffic cycles. 
"Around 65 percent of our teachers drive a minimum of 30 minutes to get to work every day," DTA President and Mountain View High School teacher David Campbell said. "The later we push back start times, the longer our commutes get. It's not a matter of staying 15 minutes later and just leaving 15 minutes later; no, if you stay 15 minutes, you're driving 45 minutes to an hour more."
According to Campbell, students also brought up issues such as bus schedules, parent work schedules and sibling drop-offs. However, the district plans to implement programs like early-morning tutorial periods to accommodate for the early arrival of students. 
In addition, according to Oliver, both students and staff don't want dismissal times later than 3:45 p.m. However, the state requirement for 1,800 instructional minutes per week and 64,800 minutes per year will need to come from somewhere else, such as summer break, if the school day isn't shortened. 
"If we push the start time back, and we don't push the stop time back, which is what students and staff don't want, you've compressed your day by 20 minutes," Campbell said. "We have to meet those [requirements], so we're very concerned about where that time is going to come from."
Later dismissal also may affect athletics: issues with other schools in terms of game start times and decreased hours of sunlight after school may impact sports schedules. Solutions are already in the works, however. 
"We anticipate, with a little luck, that maybe next year we might have field lights," Faillace said. 
This would allow for sports practices to run later, especially in the wintertime, which would resolve the issue of losing practice time. In regards to scheduling matches with other schools, Faillace doesn't think it will be too much of an issue either, as districts will likely have relatively similar schedules. 
Given the different issues at stake, nothing is set in stone yet. The district still needs to find a concrete solution that most people support. In the Hanover report, for instance, none of the schedule options clearly captured the vast majority.
"There's no reason you have to say, 'Okay, well, 52 percent of the people wanted this and 48 percent wanted that, so we're going with the 52 percent," Faillace said. "I think we have to see whether there is some blend of the two things that are favored that manages to satisfy as many interests as possible."
Either way, there is confidence that scheduling plans will proceed smoothly.
"Honestly, we're professionals," Campbell said. "We'll work with whatever we're told. The most important thing is for this to be for the best of the students."
The DTA's next meeting on the topic will be on Tuesday, December 3. Faillace hopes to begin discussing more solid proposals by next spring, with a finalized version by the end of the academic year.