Los Altos to delay school start times in accordance with new legislation
Students in the Mountain View Los Altos (MVLA) School District can expect later start times as soon as the next school year. This move comes partly because of a new piece of legislation (CA SB328) passed on Sunday, October 13, which declares that high schools can start no earlier than 8:30 a.m.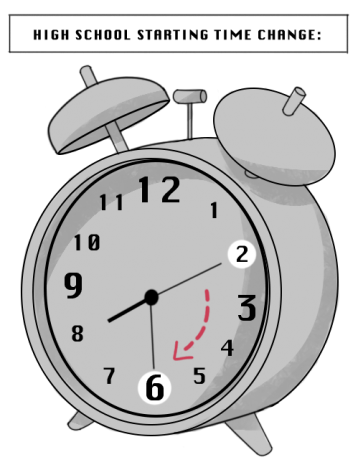 The bill, signed by California Governor Gavin Newsom, aims to improve student academic performance and general well-being by delaying school start times across the state. According to the bill, schools must enact this change either by July 1, 2022 or by the expiration of the contract between the district and teachers union operative at the start of 2020; whichever date comes later will serve as the deadline. 
In addition, the bill rules that middle schools can start no earlier than 8:00 a.m. but exempts zero periods in both middle and high schools from start time regulations, such as marching band at Los Altos. 
While the bill mandates that changes come about in the 2023-2024 school year, the MVLA school district has tentative plans to do so by the next school year. 
"We were already going to look at making adjustments to the bell schedule partly [because of] student interest and partly related to our Western Association of Schools and Colleges (WASC) accreditation action plan," assistant principal Galen Rosenberg said. "We'll probably [make changes] by next year." 
By changing the bell schedule in the interest of student wellness, the district hopes to be in line with the philosophy of WASC, the organization which accredits schools and other educational programs with a holistic view of student performance. 
Despite eventually being signed into law, the bill faced opposition in the California state legislature. Some worry that Sacramento is overstepping its power by imposing a "one size fits all" approach on school districts.
"In some communities, parents who are working just to make ends meet don't have the luxury of delaying the start of their workday," Orange County superintendent Al Mijares wrote for CalMatters. "The indisputable reality in many of our communities is that students have to begin their day at the same time as their parents."
The specifics of the changes in the MVLA district, however, are still in the works. 
"The process to consider the change is a district-wide conversation," Rosenberg said. "It's going to be the same at both [Los Altos and Mountain View], and I'm sure that Alta Vista might make adjustments as well. It's a big conversation that's going to get input from students, parents, teachers and administrators."