Mid Season Update: Wrestling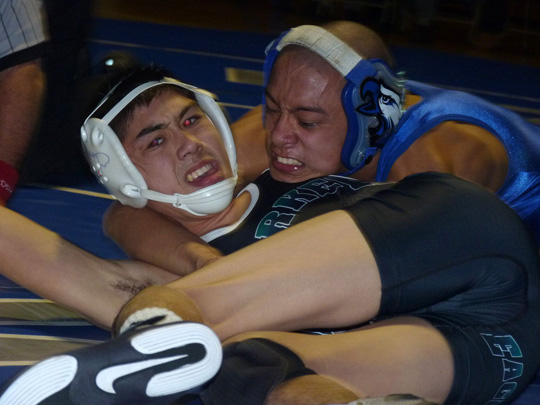 Wrestling has had a successful season, their only loss coming to Gunn High School, 45-33 on Thursday, January 6.
"We were not focused, and we just thought 'oh we're going to beat everyone in our league'" junior Chris Jimenez [far right] said. "And it came back and bite us in the butt."
However, since then the team has gone on a tear, demolishing Harker High School 68-13 and defeating Milpitas High School 39-36. The team has two more matches, against Lynbrook on Thursday, Febuary 3 and against Fremont this upcoming Thursday, Febuary 10. Head Coach Randy Jimenez looks to carry the momentum into these games and onto leagues.
"We're going to do some destruction," Jimenez said. "I expect to annihilate and roll into league finals."
Chris attributed the team's success to its peak physical condition.
"[We get] a lot of good training from the coaches," Chris said."They put us through at least 30 minutes of hard conditioning every day; running, push ups, power lifting, just brutal stuff. It gets us mentally ready, if we can get through conditioning then we can get through any match."
Wrestlers expected to compete in CCS are seniors Wesley Oribello and Max Wiederholt, juniors Chris Jimenez, Peter Sobrino and Ricardo Golzio and sophomore Paul Hernandez. All six wrestlers are CCS ranked.
Leave a Comment