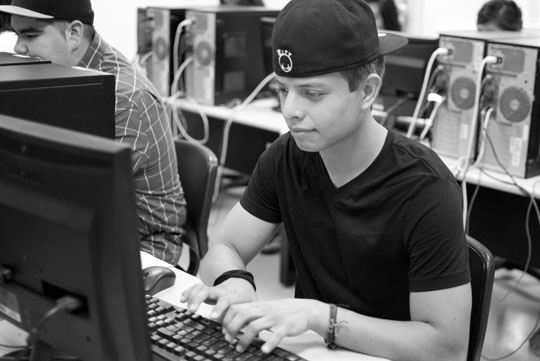 This year, the Advancement Via Individual Determination (AVID) Program has mentor groups for seniors who are applying to college. This new program was started by the MVLA Community Scholars and started this past September.
"Honestly, if it weren't for them, I wouldn't be admitted into college right now," Senior Rashmeen Kaur said. "I don't have other people to tell me what to do. I can't describe how helpful they are."
The purpose of this program is to pair high school seniors with a mentor who guides them through the college application process.
Story continues below advertisement
"We're also someone they can talk to about their college options, choices, or other things about the process," AVID mentor Tori Ali said. "We get really close to them, it's really a great process."
At the beginning of the year, District Superintendent Barry Groves asked the President of the MVLA Community Scholars Dee Gibson to start this program at our school. Gibson and Andrea Gordon, the coordinators of the program for our school, sent emails to parents through the PTSA to recruit mentors.
The MVLA Community Scholars is a local scholarship program that gives scholarships to students in our district. In the past, they would select the students for the scholarship in April and award the scholarships in May.
"However, by that time, the students had already decided where they are going to college," Gibson said. "But they really didn't have anybody to help them really make a choice that would be the most appropriate choice for them for four years."
This year, they decided to help them with the college application process from the start, and give them advice throughout the year. Students in the program are in AVID first period and they meet with their mentors every Friday, and mentors sometimes would meet with the students outside of school. The groups usually consist of one mentor with two students.
"[The mentors] were very excited and they want to do it again," Gibson said. "And I think what they really enjoyed was having that one-on-one interaction with students."
After the students finished submitting their college applications in first semester, the mentors helped them through scholarship applications and other forms, such as Free Application for Federal Student Aid, during second semester. Now they are working with their students to help them choose what college they want to commit to.
"You just have to be patient and listen because they know what they're talking about," Rashmeen said. "You have to keep your doors open for everything, and that's what the mentors have guided us to do."
While this mentorship program may be new, it is a program that supports students for their plans in the future after high school.
"I think it's very important, especially for first generation students who don't have the resources, or don't know where to go, to find a mentor who helps them out with the college process, to help them find the resources and the money, to better prepare them to be equipped throughout the college process," Ali said.