James Wangsness: Soccer ambitions soar to new heights at Princeton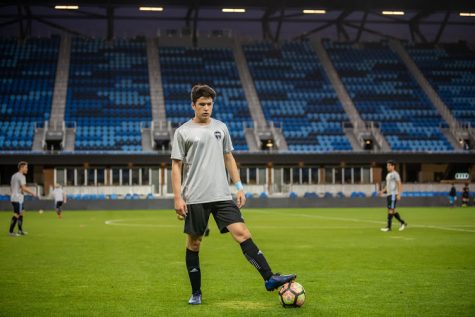 Next fall, senior James Wangsness will be continuing his soccer career as a center midfielder for the Division One men's soccer team at Princeton. Starting from the first day he steps on the field, James hopes to leave a lasting impression on both the coaches and his peers.
"I'm really looking forward to working hard to prove my abilities to the coaching staff and my new teammates," James said. "I want to have an instant impact on the team my freshman year."
Although playing at a collegiate level against some of the country's best soccer players won't be easy, James views this opportunity as a chance to improve himself.
"I hope the jump from academy soccer to the NCAA further develops my work ethic and mentality," James said.
In addition to pushing the limits of his abilities, James hopes that his experience playing at Princeton will also help set him up for success beyond college. As someone who wants to play professionally, James believes that Princeton is the school that will best help him achieve that goal, as the university has a history of alumni immediately entering the MLS (Major League Soccer).
But until he achieves that goal, James is driven by his dedication and love for the school, along with the feeling of being part of something bigger than himself. He takes pride in being able to represent what it means to be part of the Princeton community as a whole.
"I love the Princeton shield on the left side of the jersey," James said. "I have been anticipating the way I will feel putting it on before my first game under the lights."
To read more about James's journey to committing to Princeton, read this article.