Eagles to fight for football league championship title this Friday
The football team reviews its successful season and future goals.
Los Altos High School's football game this Friday, November 5, against Cupertino High School will determine whether the Eagles are declared champions of the Santa Clara Valley Athletic League's El Camino division.
If the team secures the championship, it will earn a spot in Central Coast Section playoffs. There's also the possibility that the team moves up a higher league to the De Anza division, joining schools like Mountain View High School and Palo Alto High School; but a number of other factors would have to be considered, including program size and JV standings, so this move isn't yet clear.
If Los Altos loses, there will be a three-way first place tie between Los Altos, Cupertino and Gunn High School. The team's determined to not let that happen.
"We don't want to share this title with anyone else," linebacker and running back senior Dhruv Butani said.
Los Altos remains undefeated in league play and beat Lynbrook High School 36–7 during the homecoming game last Friday, October 29. The game was held on campus for the first time in history due to the new stadium lights, and fans were decked out in an all-white theme.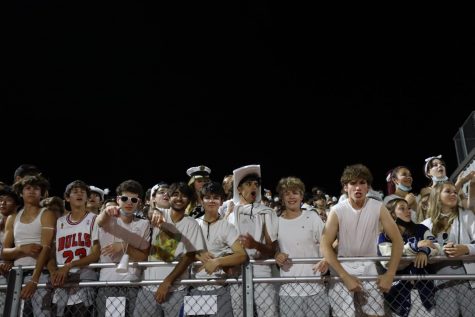 "The game is pandemonium," said Phyllis O'Sullivan, a parent on the football team. "It's super exciting, and there's a good turnout and lots of school spirit."
For linebacker and running back senior Mingaang Park, playing the game at home made the experience all the more memorable.
"We get to go in our home locker room, we know where everything is, we can get into that mindset and be able to just march out in our school with the end zones our color and the eagle in the middle of the field," Mingaang said. "It's amazing."
Team tribulations
Getting to this point was not easy. During the first game of the season, the Eagles took a 42–7 defeat against the rival Spartans in a non-league match, and as a result, many of the athletes felt less support from the student body.
"It's really demotivating," Dhruv said. "[Students] only come to the Mountain View game and it happens to be the toughest one we play all year. The school doesn't owe us anything, but more support would be nice."
A few weeks ago the majority of the team also suffered a cold, leading many players to skip practices and games, hurting team chemistry. And with a few games being rescheduled earlier in the season, the Los Altos team played three games in a 10-day interval period — something that's nearly unheard of in a school football program.
"We're trying to stay healthy because some guys are banged up a little bit," Head Coach Dave DeGeronimo said. "But these guys are resilient buds and they have learned how to come together and maintain that focus. For that, I'm really proud of the team."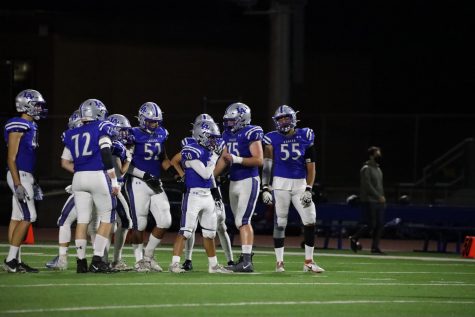 Team history
The team's recent success comes with DeGeronimo's entry as the head coach three years ago, when he brought a new vision to make the program more meaningful and a set of team plays that the athletes had to adjust to.
"[Our success] is a culmination of the past three years before, just grinding it out and figuring out what works and what doesn't," Mingaang said. "This year is an example of all the hard work paying off."
DeGeronimo sees the team as family, encouraging players to form stronger bonds with one another. Athletes have embodied that sentiment by spending time together outside of games and practices.
"I love the bus rides after wins — they're so iconic," Dhruv said. "You'll see some classic 2000s songs like 'Fireflies' or something like that blasting and everyone singing in the bus."
Of course, not all families get along easily. Mingaang credits teammate accountability as another factor in the team's development.
"If I'm being honest, the football team isn't smiles and hallelujahs 100 percent of the time," Mingaang said. "Ultimately, we're all working for the same vision and everybody has to do their own job."
Throughout the season, games have taught the team to stay rooted and focused — particularly the game against Fremont High School. The Eagles had to fight back from a 13–0 score in halftime and eventually won 21–13.
"[The game] was a reminder that these teams are also doing whatever it takes to win, and if we take our foot off the gas we may just get overtaken by another team," Dhruv said.
Team makeup
The Los Altos team features many talented players, but is also a particularly young roster, according to DeGeronimo. The team has a strong foundation of sophomores, but the team needs to grow in order to compete at a higher level like the De Anza division.
"What I'd like to get to next year is everybody stays and we have tons of juniors and seniors; that's when I know we will have turned the corner in terms of building something," DeGeronimo said.
Despite the need for a larger roster, the team is already full of young leaders prepared to take charge after this season. Young standouts such as quarterback and defensive back sophomore Jimmy Flynn and wide receiver and defensive back junior Zach Fagin have both been selected as captains in various games.
"To be a captain felt amazing because usually it's the seniors," Zach said. "I wasn't really expecting to be called, and I got support from my teammates and it felt pretty great."
But the team certainly has a wide base of senior talent. The best players on the team are seniors John O'Sullivan, offensive lineman and defensive lineman, and Cole Rafferty, wide receiver and defensive back, according to DeGeronimo.
"Those guys are our senior leaders, our playmakers," DeGeronimo said. "John anchors the line and Cole anchors the skill spots."
Beyond this, many players have stuck with the program through thick and thin. While Mingaang suffered a knee ligament tear his sophomore year, and more injuries at the end of his junior year, his belief in the team's development has kept him in it.
"Of course there are times where I could've easily just been like, 'I've had fun playing football, maybe I'll call it a day,'" Mingaang said. "But the belief that the team could be something that I could be proud of and the school could be proud of is something that really helped me get through the surgeries and procedures."
His love of the game has also helped him through these difficult time periods.
"The camaraderie that you get from football is like nothing else," Mingaang said. "In my personal opinion, there's no other sport that requires the type of individual and collective efforts every single play, every single second of the game, for something to work."
The team hopes to continue to grow into the future and maintain their level of play for next season.
"A lot of our juniors and sophomores on the team know how it feels to win," Zach said. "I think that will translate into next season, that we'll continue to work hard and want to win."
But for right now, the team's focus is the upcoming game, as they look to fight for the league championship this Friday. With it, they hope to go down in history.
Leave a Comment