Coaching through COVID-19
Imagine coaching forty athletes through a computer screen or demonstrating specific skills from six feet away. For many LAHS coaches impacted by COVID-19 restrictions, this has been their reality over the past few months.
When shelter-in-place was enforced, there was a lot of pressure on athletes to stay in shape at home. Zoom conditioning took over as a temporary replacement for practice until this whole thing was over. But with no real end to the pandemic in sight, many athletes quickly realized that at-home workouts weren't sufficiently meeting their needs of staying in shape and practicing their sport. Following CIF and SCVAL decisions, Season 1 sports have started optional practices with high restrictions at LAHS. 
Many of these formerly winter sports are also having at least one conditioning session over Zoom each week. However, it can be hard for coaches to gauge the level of effort coming from the athletes as well as to know where to place the bar in terms of difficulty. 
"It is up to the individual players how much they are going to put into it," varsity field hockey coach Mary Donahue said. "It's not as regular, and it's harder to see if you're hitting the right level of difficulty in the exercises."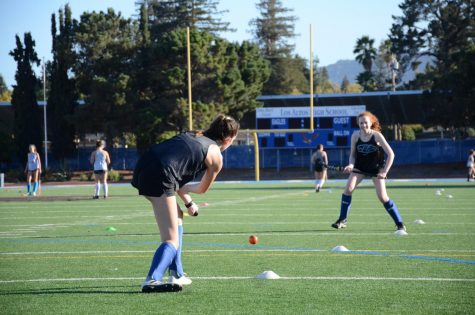 With the transition to in-person practices, only 14 athletes per coach are allowed, masks must be worn when players are not engaging in strenuous activity and social distancing rules are required. However, for contact sports such as field hockey, social distancing prevents players from practicing with the level of physicality that they're used to. With scrimmages out of the question, Donahue worries that her team will have trouble with stamina if the season starts in the winter as scheduled.
"For new players, it will be harder for them to get into the learning curve of playing proper offense and defense," Donahue said. "But for the experienced players, I honestly think the toughest thing will be getting into game shape. Maintaining good skills while running for 60 minutes at a time is just a fitness issue, and you can't really replicate the pace and energy in a game as far as the combination of running and aerobics."
Though non-contact sports like cross country are much more COVID-friendly, they are still facing issues due to the pandemic. Coaches will have to make more cuts in order to keep cohorts smaller, so they may miss out on new athletes with great potential.
"Every now and then we find a diamond in the rough who isn't very good when they come to tryouts and then six months later, they're on varsity because they work really hard," cross country head coach Steph Mackenzie said.
It's clear that Season 1 sports are dealing with unprecedented issues during the pandemic, and not having the same practice environment as in previous seasons is challenging. Still, exercise plays a huge part in these athlete's lives.
"The fresh air and sunlight are all good things to help protect their immunity," Mackenzie said. "And in terms of their mental health, it's good for them to be out exercising, and also just being together. Laughing and talking like teenagers are supposed to, which they have probably lost a lot of from online school."
Though COVID-19 has certainly presented its obstacles for the athletic community, it seems that these obstacles are only making coaches and athletes appreciate their sports even more. 
"I've always thought sports were super important, and I don't think the pandemic has changed my view on that at all," Donahue said. "The team seems happy to be doing what they love together again, and there's definitely a greater appreciation for a team environment than there used to be."
Leave a Comment