AP and CST Scores Released for the School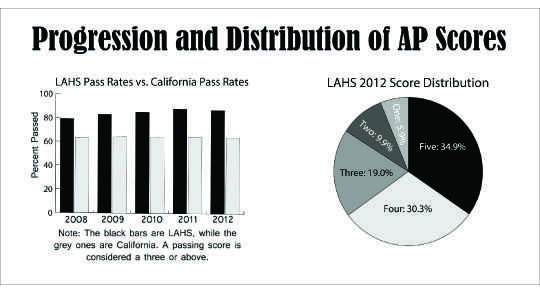 The school's Advanced Placement (AP) and California Standardized Test (CST) scores both saw improvement in 2012.
The AP exam scores from 2012, released on Sunday, July 1, show a five percent improvement from 2011 throughout the district. A total of 2,105 AP exams were taken by 1,133 students in the district. A score of three or higher on an AP exam is considered a passing grade, making the student eligible to use the course for college credit at some colleges. Eighty-six percent of the exams earned a score of three or higher.
Assistant Principal Galen Rosenberg said that in addition to the increase in scores, the school saw an increase in students enrolled in AP classes.
"The more significant issue [than the increase in scores] is the number of students taking AP courses and taking AP exams," Rosenberg said. "That's increased quite a bit more than five percent. Normally, when you increase the pool of students taking an exam, the passing rate goes down a little bit. The fact that we're increasing the number of students taking the exams and that they're passing at the same or higher rate, that's what's significant."
The school had 557 AP students in 2012, which is 63 more than in 2011. These students passed 971 of the 1,153 exams they took collectively.
Students who took an AP exam for calculus tested with a pass rate of 86 percent. The pass rate for students taking an AP English exam was 88 percent. AP exams for history and government had a 84 percent pass rate. The percentages at which the district's students passed in each subject were significantly higher than national averages.
"I think we definitely perform way above the national level, so we're very strong," History Department coordinator DeeDee Pearce said. "We've got really dedicated students."
Science teacher Adam Randall's AP Physics C students last school year achieved an average AP score of 4.7.
"I think it's great that as a public high school, we offer every science course that the college board has AP tests for," Randall said. "I think that's a real benefit for students at our school. All of the AP science teachers are really passionate about the sciences they teach."
However, Randall said the actual exam is not the only value of taking an AP class.
"Scores are the last thing that I'm really interested in," Randall said. "It's communicating scientific literacy to students in high school at a college level that is pretty cool. I think I'm as proud of the two students who got a 1 as the 28 students who got a 5 – they all learned a significant amount."
Randall said that the school's success in AP classes was enabled by the district's assistance.
"The district values our AP classes and supports us with the budget, the equipment and the resources to teach a lab based science class at a first-year college level," Randall said.
The district also saw improvement in many subject areas of CST scores from 2012. The improvement follows an upward trend in scores seen in recent years. Rosenberg said that the improvement is a result of schoolwide effort.
"For the last several years, we've been collaborating schoolwide and in departments to align what we do in the classroom with state standards, but also – I think more importantly – with what we think is the best practice for students," Rosenberg said. "The consistency of the upward trend suggests that all the collective work we've been doing has been helping."
District superintendent Barry Groves said that ninth and 11th grade scores showed improvement in every subject, while 10th grade students improved the scores in every subject except Algebra II.
"This improvement in student achievement is linked to our teachers' efforts to align instruction and continually review data to evaluate their effectiveness," Assistant Principal Perla Pasallo said in a press release from the district.
In future years, there will be changes in California's standardized testing process.
"CST and state standards are going to change in two years to what are called Common Core Standards and at this point we don't know for sure what the testing is going to be like," Rosenberg said. "The common core standards are expected to be higher than the California State Standards."
While the Common Core Standards will not be implemented until two years from now, there are some changes in requirements that are already expected to come with the new standards.
"I expect [Common Core Standards] will include less emphasis on factual recall… and more emphasis on synthesis, interpretation and analysis in all subject areas," Rosenberg said.
View Comments (3)