600-wing building to have gender-neutral bathrooms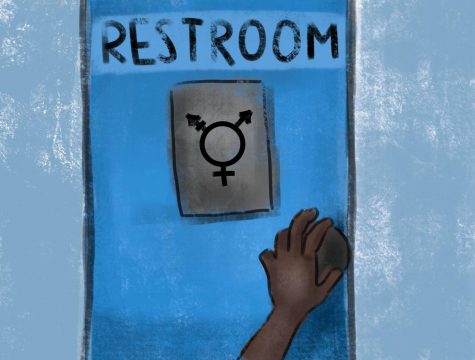 The MVLA school district plans to build gender-neutral bathroom facilities in the new 600-wing building, with possible plans to convert the 300-wing bathrooms to gender-neutral facilities as well. The 600-wing building is set for completion in 2021. 
By installing gender-neutral bathrooms, the district hopes to provide safety and inclusivity for all students, especially those struggling with gender dysphoria. In an acknowledgment that not all will be comfortable using gender-neutral bathrooms, 'gendered' facilities will still be available.
"The core point of [gender-neutral bathrooms] is that anyone can use it, regardless of their gender identity," Gender and Sexuality Awareness (GSA) co-president senior Aris Merchant said. "You don't have to worry about your gender—you just go to the bathroom."
According to assistant principal Galen Rosenberg, however, gender-neutral bathrooms don't come without problems. In the past, gender-neutral bathrooms were available for use in the 300-wing. However, the administration removed them due to inappropriate use and the safety issues of a lockable space with both genders. 
"It's difficult for us safety-wise to have a lockable restroom with student access," Rosenberg said. "99 percent of students are going to use the space appropriately, but there's 1 percent who might make bad choices. If they're able to lock themselves into a space, that's concerning for us." 
Because the bathrooms will be constructed specifically to be gender-neutral, the administration hopes that many of the problems that may have arisen in the past can be solved by the layout of the bathroom itself.
The bathrooms are to have floor-to-ceiling stall doors and two entrances into the common portion of the bathroom. The two doors are meant to give students an alternative exit in the event that they might not feel safe or comfortable using a certain exit. 
"We've been talking about this for a number of years, [but we've] never been able to work out the perfect thing," Los Altos principal Wynne Satterwhite said. "The best idea is designing something that's actually built [to be gender-neutral], instead of trying to retrofit what we currently have."
Regardless of the specifics of the new design, the administration is committed to providing safe facilities for use by all students on campus.
"There's a recognition that accommodating gender diversity is something that should happen," Rosenberg said. "Addressing all different kinds of individual needs is something that we should do, and [building gender-neutral bathrooms] is a part of that."