yeule: "Glitch Princess"
March 16, 2022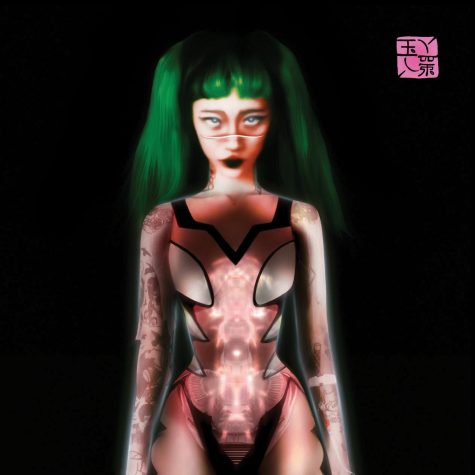 (CW: Themes of depression, drug abuse, suicidal thoughts/self-harm, gender dysphoria and eating disorders are described on this album.)
Glitch: the byproduct of a malfunctioning machine, the sign of a system gone wrong. Glitch has increasingly been adopted as a sonic aesthetic in a Gen Z world, the deliberate recording and replication of electronic brokenness used to wordlessly translate human angst and anxiety. This relationship is perhaps described no better than on "Glitch Princess," the chronicled story of Nat Ćmiel, also known as yeule, and their traversal through anxiety, addiction, darkness, love and gender.
"Glitch Princess" is a delicate and distant album, its despair continuous and its hope marred. The album's penultimate song, "Friendly Machine," backed by pulsating synth notes, evokes the feeling of floating through a silent hellscape, a vast hopelessness, desperately searching for any escape. "Eyes," backed by drifting piano chords and quiet yet crushing noise, features yeule's musings on their self-perception and self-hatred ("Can you see my demons stuck to me / How can I burn out of my own real body").
On the album's opening track, "My Name Is Nat Ćmiel," yeule delivers a structured autobiography, dueting with the sounds of a skipping, synthesized music box. Yeule's voice slows, skips, stops and cuts out, barely enough to make out, and, by the end of the track, they're engulfed by static. Their voice, struggling to be heard through a sparse musical landscape, eventually swallowed by breakdown, is an apt analogue to the backstory this album communicates.
However, this isn't to belie the album's moments of genuine beauty and warmth. "Don't Be So Hard on Your Own Beauty" is a tenderly digitized, gorgeous indie-folk cut. The album's musical despair is largely gone on this song, replaced with acoustic guitar and ethereal vocals. The song is marked by one of the album's rare experiences of hope: the loving kind of hope so strong that it'll stick with you through a thousand bad days. The song's love-stricken attitude continues to the following track "Fragments," albeit in a darker atmosphere: Between moments of sparse glitch, yeule delivers the song's only lyrics. "I'll tell you / With my dying breath, I love you / I'll hold you / 'Til I stop the pain hurting you."
The album's outro, "Mandy," a haunting noise piece, features yeule having a conversation with themself, chronicling the inner mental struggle of their substance abuse and depression. The album ends with the words "I can't even trust myself, so I don't love you anymore," and references to "mak[ing] the pain go away" using drugs. Even though the album deals in and eventually concludes in abuse and despair, it still holds an indescribable beauty in its sound.