Yash Nasikkar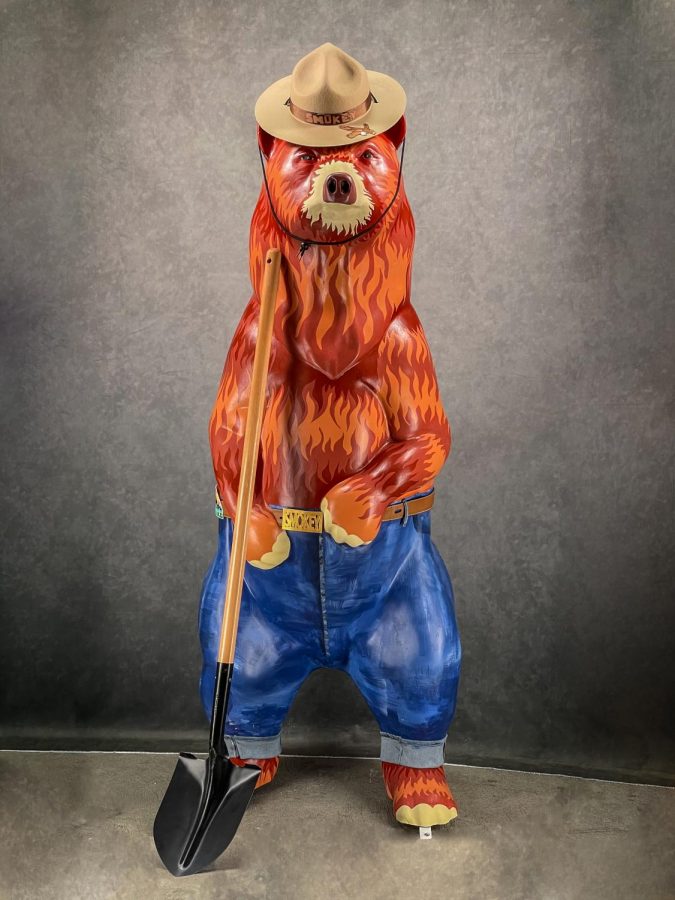 Yash Nasikkar is another Los Altos senior who has lit up the town with his project, a take on the beloved Smokey the Bear. His work is currently sitting at a bid of $10,000, attracting the highest bid of any bear in its size.
When contacted by sponsors through NAHS to work on a Smokey-inspired bear, the aspiring graphic designer took a stroll through Downtown Los Altos for inspiration.
"I noticed that a lot of the bears were realistic," Yash said. "I wanted to do something different, something more graphical."
Yash's Smokey the Bear is a 5-foot-2 representation of the figure with his own artistic touch — instead of the typical dark brown coat, Yash's rendition has striking red-and-orange fur fashioned into flames. His literal take on the fire-fighting bear is a stand-out addition with no shortage of attention.
"There have been hundreds of Smokey the Bears that look the same over the past 70 years and I wanted to add my own flair to it," Yash said. "I broke away from tradition and designed something with a twist."
Despite a fresh coat of paint, Smokey's signature accessories — his trademark hat, jeans and shovel — make his likeness undeniable. Yash cut up old jeans to give Smokey real denim cuffs and pockets, adding a textural component to the design.
The bear took over 60 hours to complete. Afterward, he also worked with the Rotarians to design an interactive map displaying the locations and descriptions of all the bears.
"Graphic design is in my opinion, a lot more fun to look at than traditional art," Yash said. "Realism can always be done with a photo — design is a very powerful and complex way to convey a purpose."
Just as Smokey would have wanted, Yash will be donating 10 percent of his proceeds to California wildfire relief. He is also creating a poster based on his design to spread fire awareness, with QR codes to websites accepting donations.
Find Smokey the Bear outside the UPS store, keeping a watchful eye on Los Altos residents.
Leave a Comment