Wrestling – coach Jim Thrall
May 7, 2020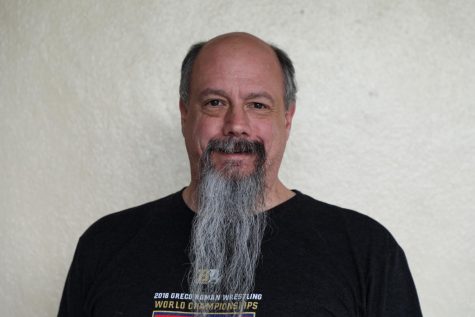 Los Altos wrestling coach Jim Thrall started his wrestling career after being cut from the basketball team. He wrestled as a "secondary extracurricular" in high school, but committed himself to the sport at the United States Merchant Marine Academy, where he competed at the Division III level. He has since worked as an international photographer, traveling the world to watch wrestling championships and contract photographs for the athletes. His extensive involvement in the international wrestling community allows him to maintain high-level connections with professional wrestlers and refine his coaching philosophy.
Thrall's passion for wrestling is immediately evident in the wrestling room, where, until December 9, practices ran for nearly 3 hours. Within cramped walls and sweaty mats, Thrall hopes to transform everyone on the team into individuals of confidence and empathy. Any student is welcome and encouraged to try wrestling; in fact, the first thing that Thrall emphasizes as a coach is the accessibility of wrestling.
"Anybody can wrestle," Thrall said. "Any physical body. You can be blind, you can be deaf, you can be missing a limb, you can be missing multiple limbs, you can have cognitive disabilities. You can still wrestle and compete on a level playing field."
Thrall aims to give each wrestler individualized attention and guidance through the entirety of practice, starting when the athletes warm up with a simple game of handball. Athletes are split into two teams with the sole aim of keeping possession of the ball by running and passing the ball. During the exercise, Thrall looks for hints of aggression or sluggishness that might give him a better idea of each athlete's attitude that day. His philosophy unfolds from there.
"I've already had situations with this team where someone has told me I had a really bad day today, I don't think I'm going to come to practice," Thrall said. "I've encouraged them to come in, and I've said one of the things we can do here is you can emotionally be present even if you have problems on the outside."
However, for Thrall, an individual sport does not lessen the importance of a compassionate community. This season, he looks forward to the empathy and leadership already visible in the Los Altos wrestlers.
"We've got some guys and gals that came out in the preseason, they worked out with us, but even though they weren't doing a fall sport, they didn't lack in leadership," Thrall said. "And even ones that did a fall sport are really starting to demonstrate some of the leadership qualities that I like to see in our athletes."
Overall, Thrall is bringing a change not only to how fundamentals are taught, but also to how he creates a community where students will grow beyond the mats.
"I really want to be a coach that builds a program that is greater than a transactional opportunity to wrestle and then go home," Thrall said. "My coaching philosophy is to help boys and girls become men and women of empathy and integrity; to lead, be responsible and change the world for good."