Wrestling
February 8, 2019
As the previously inexperienced boys varsity wrestling team progressed through the season, they saw huge improvements. The team started off this year with many first-time wrestlers, but have been working hard to learn and improve as fast as possible.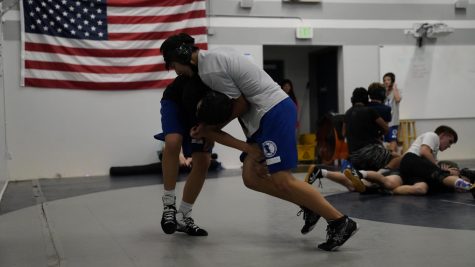 "They've stepped up to the plate," JV coach Chris Jimenez said. "We as coaches do not lower our expectations of how the season's going to go, and they've met every requirement so far."
On January 22 and January 24, the team had a dual meet versus Santa Clara and Lynbrook. Against Lynbrook, the team dominated with a score of 55-15.
"Tuesday was really amazing for us," Jimenez said. "[Our] kids stepped up and showed amazing work. We had literally pin after pin, which was super amazing and definitely lit some sparks in the kids."  
The team is still working hard to improve and be prepared for league finals on Friday, February 8.
"Our goals are mainly just to improve our defense and be more aggressive," varsity wrestler Aaron Sonnentag said. As league finals approach, the team is pushing full speed ahead.
"With how we've progressed, [I] definitely see us doing really well in league finals," Jimenez said.