World-Renowned Guitarist Steps into the Spotlight
Freshman Ashwin Krishna takes a bow, waves, sits down and firmly grasps his guitar, readying himself for a performance for which he's been practicing for months. He shuts his eyes and meticulously places his fingers over the exact spot he knows will produce the perfect chord for the beginning of the song. With the audience hushed in anticipation, he begins to play.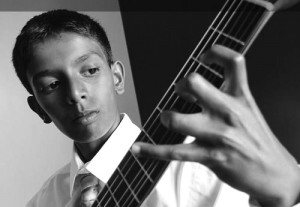 Ashwin is an internationally-ranked classical guitarist. He is ranked first in the United States and third internationally. At the age of 14, he has already competed in rigorous guitar competitions such as the Guitar Foundation of America, an international competition which draws competitors from various countries in Eastern Asia, Europe and the Middle East.
He started his journey at a young age when his father encouraged him to pursue guitar as an extracurricular.
"My parents tell me that I used to be banging around on all the tables, trying to make music," Ashwin said. "[As a result] they signed me up for guitar lessons."
Ashwin knew that his passion had been uncovered, from the beginning of his journey. Not everyone has the pleasure of finding interest and passion in something in their first encounter. However, this was not the case for Ashwin.
"The first time I picked up a guitar, I didn't really know what it was because I was really little," Ashwin said. "It was a really small guitar too, and I held it upside down. "
From his first encounter with the instrument, Ashwin was able to connect with the thing that he loved the most about guitar: the sound.
"The first time I strummed a chord, it was pretty weird, because I hadn't played any other instrument [other] than that," Ashwin said.
Ashwin has come a long way since he played his first chord. In the eight years since he took up the guitar, he has became a highly-competitive musician, picking up new skills and new concepts quickly. His rise in abilities, though, came at a price.
"I had one teacher for eight years," Ashwin said. "He told me that I was getting too advanced for him, so he told me to go to another more advanced teacher," Ashwin said.
Ashwin's former teacher was a more relaxed instructor, who encouraged him to forge a connection with his music. Competition wasn't a pressing issue. Rather, there was greater emphasis on crafting a strong understanding for music from which Ashwin could build his passion for guitar.
It was difficult for Ashwin to move apart from a teacher whom he had for eight years, and he was sad to see his teacher's affinity for technique and musicality, something Ashwin personally connected with, no longer a part of his studies.
Instead, Ashwin's new teacher focused more on performance and on aesthetics. While the transition was challenging, it is fundamental to his success as an accomplished guitarist today.
When Ashwin is on stage performing, he chooses not to ponder on the causes and effects of other problems in his day-to-day life. Instead, Ashwin primarily focuses on his music.
"While I'm performing I'm usually just focused on the guitar playing," Ashwin said. "Sometimes when people say things while I'm playing, I don't hear them. I just close my eyes and just enjoy the music."
Ashwin's passion for guitar makes it easy to incorporate some flair into any of his routines, which is a requisite for a great performance on the advanced level.
"I'm not as competitive as most people would think … some players are really good with technique, but I'm more of a musical person," Ashwin said. "I like to shape the music around myself. I learn the song … and then I'll work out what dynamics I want to do for different measures."
While dynamics are important to performances, Ashwin focuses on one thing that's really quite simple.
"[The guitar has] a really unique sound that no other instrument has," Ashwin said. "I've tried other instruments; I can play piano, but I've always liked guitar more than all of them, just because of the sound."
Big things come from small beginnings, something that is shown in the progress of Ashwin's character. From a simple love for the sound of guitar, Ashwin has built, around himself, a successful career that has brought him on stage in front of hundreds of people and won him many accolades.
Ultimately, Ashwin may or may not pursue fame and recognition with guitar, but he knows that his passion for the instrument will always be a part of him.
Leave a Comment