Workers Complete Construction of Raised Crosswalk on Gordon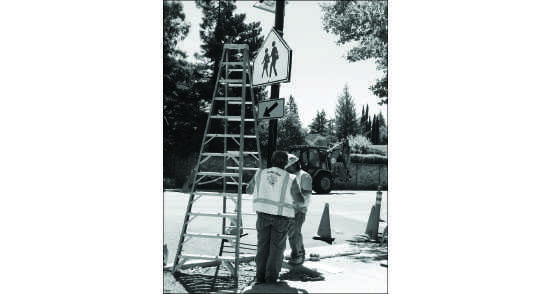 The newly-constructed crosswalk on the corner of North Gordon Way and Almond Avenue was completed during the third week of the school year.
Workers installed flashing lights along a now-elevated crosswalk. These lights flash when a student pushes a button located on either side of the crosswalk and alerts traffic that pedestrians are crossing.
"It's a busy crosswalk, with a lot of pedestrians, automobiles and bike traffic and so the construction there is intended to make it a safer intersection," Assistant Principal Galen Rosenberg said.
The flashing light device is the same as the one located along San Antonio Road near downtown Los Altos.
"The school district wanted a safer intersection there but that is a city responsibility," Rosenberg said.
The Los Altos City Council made the choice to improve this busy intersection. The Weber Tractor Service began construction on the intersection in late July.
"The evidence is pretty good that the blinking light crosswalks are safer," Rosenberg said.
The lights were intended to make the driver aware of pedestrians crossing.
"The flashing lights definitely catch my attention when I drive and give pedestrians plenty of time to cross," junior Matt Sears said.
However, during the 2011-2012 school year, a student was hit while crossing. This was reason that the crosswalk was built.
"If that accident hadn't happened I don't know if we would be building [the crosswalk]," Rosenberg said.
The intersection is very busy prior to school, partly because the new crosswalk slows down traffic.
"It aggravates drivers that the lights flash for so long and force cars to wait around more than the old crosswalk," Matt said.
A crossing guard had been assigned after the accident last school year to help ensure student safety. After the completion of the new device, the crossing guard is still helping work the intersection in the mornings and after school. He uses a handheld stop sign along with the new crosswalk system.
"It is safer but it also slows down the traffic a lot in the mornings," said junior Andrew Sargent.
The lights blink for approximately 15 seconds and the button can be pressed frequently in the busy periods of the day, especially the mornings. This speeds up pedestrian traffic while slowing down automobile traffic.
Leave a Comment