Winter deals save skiers big bucks on the slopes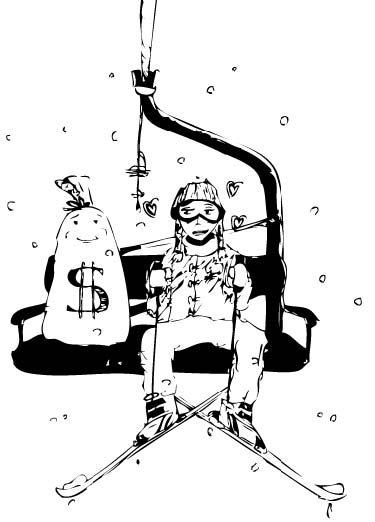 With the delightful winter months come snow, snow-covered slopes, skiing on snow-covered slopes and going broke from skiing on snow covered slopes. Like casinos and women, snow sports are quite the money-suckers. Athletes who take advantage of the following recession-friendly deals, however, may escape this ski season with bruises on only their bodies, and not on their wallets.
Rentskis.com
This site is by far the most convenient of all online ski rentals. Available in five states and parts of Canada, the service sends customers their rental equipment through local shops. Exchange and refund policies are generally flexible but vary from store to store.
The prices at Rentskis.com are never more than $50 a day for adults, no matter what the season, and they can drop below $20 a day for juniors.
Slidingonthecheap.com
SlidingontheCheap.com is an information site that provides updates on cheap lift tickets on a weekly basis. Prices may drop as low as $20, and the site features ski/snowboard sale and rental discounts. The organization also updates on Twitter and Facebook for user convenience. One particularly user-friendly aspect of the site is its organization of discount prices by region—Lake Tahoe, Southern California, Utah, the Pacific Northwest, New England and Colorado.
Sierrasnowboard.com
Sierrasnowboard.com sells skis, snowboards and winter wear at reasonable prices. Shipping is free for purchases over $100, which is fortunate because most ski and snowboard equipment is more expensive than that. However, currently all 2009 snowboard gear is marked down by 70 percent to more friendly prices, something to be taken advantage of. What differentiates this site from others is that it hosts a daily giveaway at 3 p.m. for all users. Signing up for an account is free.
Craigslist.org
This well-known site is a breeding ground for sale of used equipment. Buyers may run into some risks, as personal sellers may not be as detailed about their products as online stores are, but the prices are bargains. And since sellers are often within driving distance, potential customers can always see the product in person, an opportunity not offered by online retailers.
Costco Wholesale
Lift prices at Costco are also dropping. Sorted by brand and price, the tickets are sold at the typical cheaper-than-other-stores price Costco offers with all of its products. Deals include two adult lift passes for $80.
Fill up at Shell
Those who purchase 10 or more gallons at Shell gasoline each receive a voucher for a buy-one-get-one-free lift ticket coupon at Northstar-at-Tahoe, Sierra-at-Tahoe and Mt. Shasta, which are valid until Friday, April 16. After filling up, one just has to ask the cashier for the coupon.
Bring food
The simplest solution to saving is to pack a lunch. Food at ski resorts is overpriced and generally not healthy, either. Instead of shelling out $8 for garlic fries, bring a thermos of soup and a sandwich, instead.
Leave a Comment