What is, "My high school history teacher won $18,000 on Jeopardy?"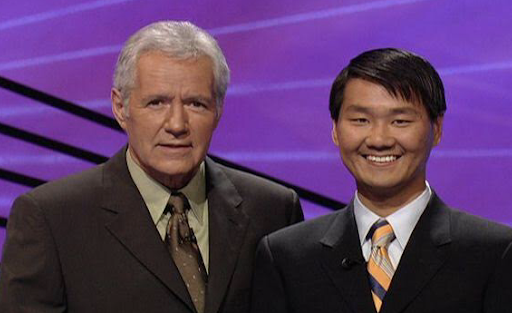 As the lights begin to dim and the melodic Jeopardy! tune fills the studio, host Alex Trebek reads out the final prompt:
"For decades, Rolls Royce also owned this luxury brand named for its founder; now both are produced by German companies," Trebek said.
Los Altos High School history teacher Roger Kim looks around at his competitors, his heart racing anxiously as he writes his answer on his gameboard. Kim is 6,600 points short of the leading participant. If he manages to pull this off, he'll be named tonight's Jeopardy! winner and go home with $17,000. 
One by one, Trebek calls on each contestant to share their answer. Fortunately for Kim, both players' responses are incorrect. Finally, the camera zooms in on his answer, the letters jumbled under his name. Trebek reads aloud:
"Bentley. That's correct!"
A thunderous applause from the audience fills the room. The music resumes, and a smile beams across Kim's face. He's done it, and his bet of $7001 won him tonight's Jeopardy!
It's been 12 years since Kim's memorable television appearance. Since then, he began teaching AP Human Geography and World Studies at LAHS. 
Kim's time on Jeopardy! isn't something he talks about often, but it's still an experience he will treasure forever.
Claiming a spot
Becoming a Jeopardy! contestant isn't easy, and participants are expected to already have a solid understanding of the questions and concepts covered on the show. However, it's not just knowing the answer to the questions that get difficult — it's the process of buzzing them in too. 
Each contestant holds a red clicker, a device that fans at home can easily recognize. Players must buzz in to answer the questions.
"When the host finishes reading the question, the lights on the side of the game board go off, and then you're allowed to click in," Kim said. "If you buzz in too early, you get blocked out for a fraction of a second, which then gives other people a chance to come in. So, you have to time it exactly to when the host finishes reading."
Prior to his participation in the game show, Kim went through a series of auditions and was randomly selected amongst a few thousand entries. He then competed against other potential contestants in practice rounds.
"It was fun, the people who run it are really fun," Kim said. "They randomly pick people that passed on the online tests and have them come in for an interview."
Meeting Alex Trebek
By the time he passed, it was well-known that the 80-year-old Jeopardy! host, Alex Trebek, was suffering from cancer. Fortunately, Kim had the chance to meet Trebek before his passing in 2020 and remembers him fondly.
"I at least met him, got a picture, which was really cool," Kim said when asked about Trebek. "He's a great person who did great things in life. He's a great human being and so, of course, you feel bad, especially after knowing all went through with cancer and still trying to tape the show."
When asked about Kim's Jeopardy! experience, history teacher Christa Wemmer is not too shocked to hear about his success on the show and thinks it's great that he got to meet someone like Trebek.
"I bet [Trebek and Kim] got along really well," Wemmer said. "They [can] talk about history, politics, religion, pop culture. He's a really cool teacher. It's [something] that definitely adds to his coolness."
An opportunity to grow
Kim viewed his Jeopardy! experience as an opportunity to grow, and ultimately something that boosted his confidence. 
"Looking back, I used to be more shy and introverted," Kim said. "I still am introverted, but I think I am much more able to be out there and be a more comfortable being or the center of attention now."
As a teacher, this skill proves invaluable on a daily basis. Having a teacher who won a major game show isn't something that happens every day. And it's an experience Kim will never forget.
"It was a pretty great atmosphere," Kim said. "The producers and the people that run the show are really awesome. They did a great job, it was a wonderful experience."
Leave a Comment