Walsh twins: going extreme on bike and board
Seniors Jake and Alex Walsh can often be found zipping down mountains (in both snow and dirt), performing tricks at skateparks and doing (equally as dangerous) tricks on their trampoline. The twins dabble in a number of sports including, but not limited to bicycle motocross (BMX), mountain biking, snowboarding, spikeball and trampolining.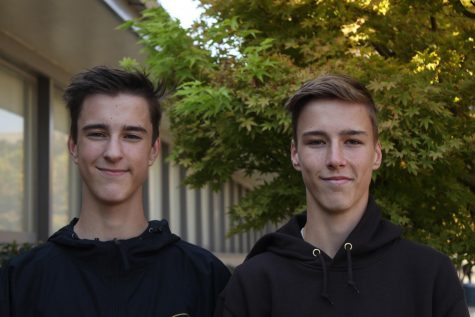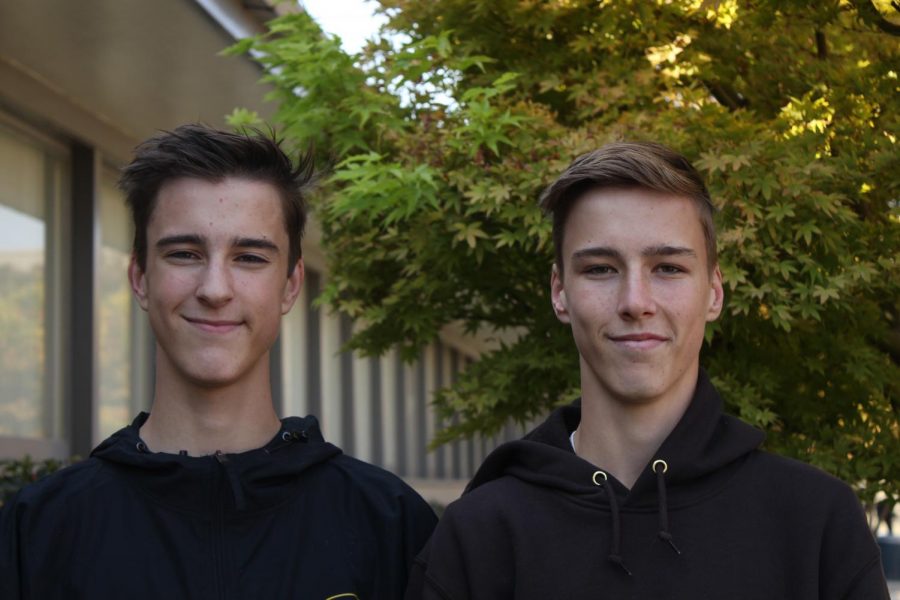 While the Walshes quit competitive club sports after their sophomore year—something which they attribute to their academic commitments in school—the twins still remain as active as possible, as demonstrated by the wide variety of sports that they participate in.
"We'll do something every day, whether it's biking a little, going on the trampoline or even playing spikeball," Alex said.
According to the two, having a twin has always been beneficial; they not only have somebody to play sports with, but somebody that they know they can play well with.
"Every sport I've done, I think I've done with [Jake]," Alex said. "It's cool to have a twin on your team; you understand how to play with them better than some of your teammates."
Obviously, having a 'twin connection' might not be as useful in a sport like snowboarding compared to team-oriented games like soccer, baseball and basketball, all of which they have played in the past. But having a twin in an individually-oriented, non-competitive sport still has its advantages.
"We just push each other back and forth, especially in snowboarding," Alex said. "I'll say, 'you got that big jump there, and you can send it,' and Jake will be unsure then I'll say 'dude if you do it, I'll back you up, I'll follow you down the slope and I'll do the same thing.'"
That same sense of healthy competition carries over to the skatepark, mountains and trampoline. Fortunately, they say that despite the high risk nature of sports like BMX and snowboarding, neither of them has ever been injured from being pushed too far by the other.
"When we were in elementary school, we were competitive against each other in a bad way," Jake said. "But as we got older we sort of started being competitive in a way that we push each other and help each other."
The two certainly get along well, but as one might guess, that hasn't always been the case.
"When we used to fight a lot in the beginning of high school, our friends would point it out all the time," Alex said. "They'd [say stuff like] 'Hey, guys you two live together. You're twins. Come on. Stop.'"
Luckily, both twins agree that they're now long past that phase, as demonstrated by the seamless way in which the two were able to (politely) finish each other's thoughts throughout the interview.
Unlike a classic rivalry between twins (or siblings, in general) the Walshes agree their time spent together in sports serves to better their relationship; they aren't harmed by the fact that they're together so much. This, they say, is because the two know each other's limits and when to give each other space.
"We have some different friends, so if you need a break, you can take one," Jake said. "It's nice that we don't always have to be together."
As for their looming separation due next year when they leave for college, the two hope to still be able to make time for each other, even if they go in opposite directions. But they both agree that it won't be the same.
"You definitely need friends to do [the sports we do]," Jake said. "It's nice to just have someone [like Alex] who's always available if you want to go do something."
For now, the Walshes plan to make the best of the time that they have left together. They say they're grateful for their relationship; without each other, they'd be thoroughly bored.
As Alex puts it, "It's like living with your best friend, it's awesome."