Volleyball Dominates Santa Cruz 3-0 in First Home Game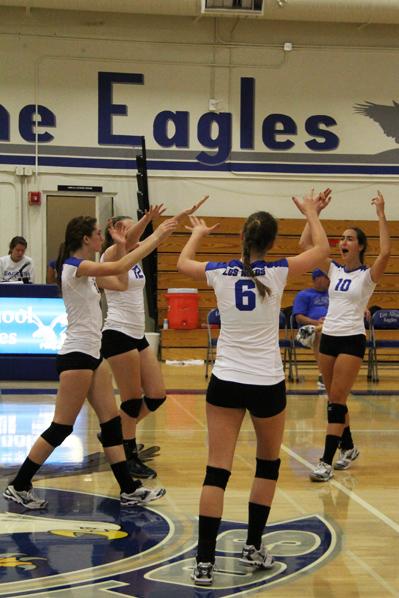 [Photo by Chloé Arrouye]
The varsity volleyball team shut out Santa Cruz today, September 6, in a dominating fashion. The team demonstrated good energy and cohesiveness in their first victory. By using momentum and building off Santa Cruz's mistakes, the Eagles won each game decisively.
"We were really pumped up since it was the first game, and we used their mistakes to our advantage," junior Katie Tritschler said.
The match started off close as the two teams traded points. The first game started out 5-4 in favor of Los Altos, and initially the game looked as if it was going to be a close battle. Junior Meghan McDermott recorded two consecutive aces and the Eagles were able to take a 9-4 lead. After that, the Eagles used solid serving and effective defense to complete the victory, 25-15.
The second game of the match started the same way. Santa Cruz battled and was able to keep the score to a manageable 8-6 deficit. In the middle of the game, however, the Eagles were able to use effective serving and solid defense to explode for a 9 point run. Continuing to fight, Santa Cruz gave a late game push, but it was not enough to overtake the Eagles. A blocked spike sealed off the win for the team, 25-17.
"After we got some service runs, I feel like we played as a team more and stopped making careless errors, and that helped us come out on top," setter junior Hanna Koehler said.
In the final game of the match, the Eagles jumped out to an early lead and maintained that lead throughout the entire game. At one point, they scored 7 consecutive points and were able to push the lead to 20-10. They closed the game out efficiently, winning 25-12 in convincing manner.
The volleyball team demonstrated good energy and showed signs for a productive season.
"It was a great way to kick start our season with a nice win under our belt," hitter junior Meghan McDermott said. "It also showed how well and consistently we can play despite the other team's energy or lack of it, which is a good thing that we will hopefully be able to carry into all of our upcoming matches this season."
The Eagles look to continue to play well and continue their momentum into the game this Friday, September 8, against Notre Dame High School Belmont.
Leave a Comment