Varsity girls softball beats Wilcox High School 3–2 on senior night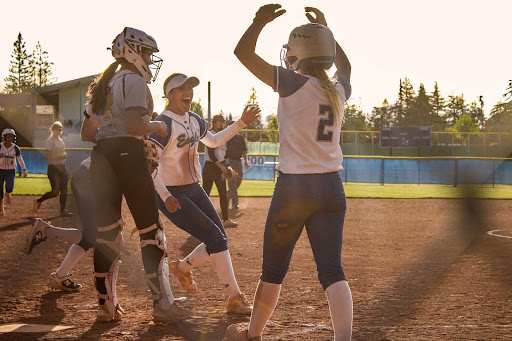 The Los Altos High School varsity softball team is on a roll, and it couldn't have come at a better time.
Riding a two-game win streak, the team's 3–2 senior night win over the Wilcox High School Chargers last Tuesday was a microcosm of an up-and-down season for the Eagles. With the victory, the 13–9 Eagles are just a game back of the Chargers — who currently sits third in league standings — and can sneak into the playoffs provided the Chargers lose their final game.
The Eagles struggled early on with defense, allowing Wilcox to open up the game by taking a 1–0 lead. The team attempted to answer with runners on first and second, but left the first inning empty-handed.
After a scoreless stretch through the second and third innings, the Chargers capitalized on defensive errors in the fourth to go ahead 2–0. The Eagles responded with a single by junior Sophia Asar, who advanced to second following senior Kelly Zoglin's sacrifice bunt. A double by senior Alyssandra Barrios closed the gap 1–2.
Senior Lauren Han kept the momentum alive with a single of her own and dodged a tagging attempt to take second. Sophomore Zoe Aguilar answered with an RBI single to bring the game into a deadlock.
As both teams clamped up on defense, the Eagles shut out the Chargers through the top of the seventh — giving them a chance to seal the game and keep their chance at a postseason alive.
"I think it was the fifth or sixth inning when the energy in the dugout was just crazy. At that point, I knew we were going to win," Kaitlyn said.
Down two outs, Kaitlyn made that motivation reality with a single to first and then a diving run to steal second. Sophia got her second hit of the game with another single, bringing Kaitlyn to third and within view of home plate.
In an ending that couldn't have been more fitting for the team's seniors, Lauren, who kept repeating "don't strike out" in her head, escaped a two-strike count with a walkoff single.
"It was super nerve-wracking with two outs and the bases loaded," Lauren said. "I [can] get unlucky against Wilcox pitchers, but it all worked out in the end."
"I thought it was going foul, so I was kind of scared," Kaitlyn said.
Moving forward, the Eagles are assured of the future of the team despite the departure of key seniors, many of whom are key pieces in the infield and outfield.
Maggie highlighted Sophia and junior Paola Lara-Espinoza, who are "going to be great leaders" next year.
For now, the Eagles will have a chance to secure a spot in the playoffs when they travel to Cupertino this Thursday, May 11.
Leave a Comment