Varsity girls lacrosse team wins senior night 19–4 against Wilcox High School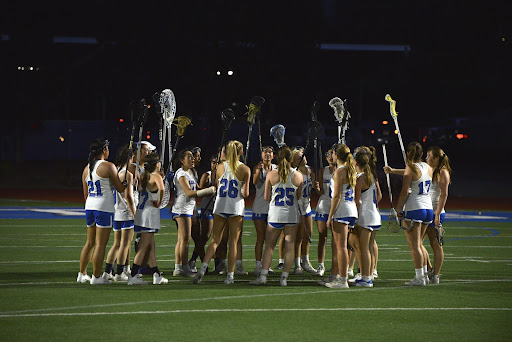 In their second to last game of the season, the Los Altos High School varsity girls lacrosse team celebrated a 19–4 win during their senior night against the Wilcox High School Chargers.
The Eagles started strong, scoring nine goals straight until the Chargers scored their first, ending the first half 9–1.
Entering the second half, the Chargers scored three goals, but the Eagles quickly shut down any hopes of a win for their opponent, scoring ten more, ending the game with a final score of 19–4.
This winning momentum will not only carry the team for the rest of the season, but also down the line for younger players in later seasons to come.
"Being a senior and a captain I've been able to see everyone grow and improve," team captain senior Chloe Park said. "I think next year we have a really good shot at being one of the top teams in the league."
As the season draws to a close, the seniors and coach Christina Sabin connect and reflect on these past few months. Sabin emphasizes the impact of the seniors on their younger players.
"Young players always need a little bit of help and encouragement," Sabin said. "And the juniors, and seniors especially, really help. Not only do they help underclassmen gain confidence, but they find their way through the team and the sport itself."
But even with support throughout the team, with a 4–6 overall record, they've encountered plenty of hardships. Team captain senior Stephanie Sartori acknowledges their struggles of fighting through a season with more downs than ups.
"This win means a lot because we haven't been playing our best," Stephanie said. "This season, we've seen a lot of improvements and this game kinda just confirms it, especially with such a big gap in the points."
Although their senior night is a sad-go away for seniors, Sabin still encourages them to pursue their dreams, no matter what they ought to be.
"You are always going to be wanting to play lacrosse and wishing you had more time to do so, it's always good to sit and relish your last games in high school," Sabin said.
The Eagles will play their final league game of the season Friday, May 5, at Wilcox High School.
Leave a Comment