Varsity football shuts out Cupertino for Homecoming and senior night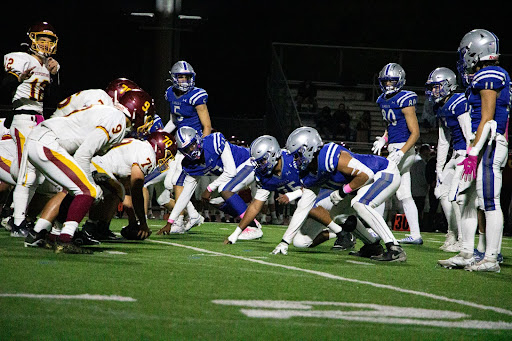 The Los Altos High School varsity football team rebounded with a 28–0 Homecoming night victory over Cupertino High School, following a 35–0 shutout loss against The King's Academy. The senior night win keeps the Eagles in third place in the El Camino division and within reach of the CCS playoffs.
"It's the game where the most people are in the stands, and it's the last home game," senior Leo Goebel said. "This game means the most to the seniors — it means the most to everyone. It's the homecoming game. If you lose, it's just no fun."
"I think the game went pretty well," senior Rafeal Arce said. "We executed our plays well, and there were very few mistakes."
The team set the tone early with efficient defensive play, ending Cupertino's opening drive deep behind the line of scrimmage. After the ensuing Pioneer punt was recovered by the Eagles 30 yards from the end zone, the team wasted no time scoring. Junior Andrew Campos was able to score in the first possession, dodging defenders for a 21-yard sprint to the end zone.
"Andrew made some unbelievable cuts," head coach Mike Garrity said. "Offensively, a lot of great plays were made by the team."
The first half closed out with an 11-yard touchdown run by senior Zach Fagin. Going into the second half, the Eagles continued to dominate both sides of the ball. Senior Benjamin Bachi was able to score a 33-yard touchdown rush, and Andrew Campos completed his two-score night with a runaway 87-yard touchdown.
"Compared to the last game, this was a good one, because we won this one," head coach Mike Garrity said. "I think we cleaned a lot of stuff up."
Despite the impressive offensive showing, the team shined on defense. The Eagles not only successfully intercepted the ball on a Pioneer offensive drive, but allowed Cupertino only 178 yards of offensive play and stopped 12 of their 16 pass attempts.
"I've been confident in our defense this whole season," Leo said. "And clearly we showed it tonight. A couple times Cupertino was almost on the goal line and we stopped them."
"Shutting an opponent out is a big deal," Garrity said. "And we played well enough to get a shutout."
Even with the thrill of winning, the seniors acknowledged the bittersweet moment of playing their last home game on the field where they had practiced and played for the last four years.
"It's definitely a little emotional," Rafael said. "I was walking down, and my eyes were getting watery. I've only been at Los Altos for two years, but I've played the sport for six years. It's hard to say goodbye to a sport like that."
"While it's sad that I don't get to play much longer after this, it's been a worthwhile trip," Leo said. "I've broken three fingers in three years, and it's been a great time. I think this was a good swan song for home games."
Leave a Comment