Varsity field hockey victory clawed out of their beaks by Los Gatos Wildcats
Earlier today, varsity field hockey played Los Gatos in an overtime battle complete with shoving, whacking, stomping and screaming. The Eagles were ready for physical aggression from Los Gatos and prepared to combat it with hours of hard work. Parents and friends came to cheer them on, and their home turf was there to comfort every fall.
The day before the rivalry game, the girls spent hours on the field practicing and perfecting the faults that caused them to lose their game against Archbishop Mitty two days before.
"Our preparation included a lot of reflection on our last game and breaking down to the basics again so we are able to build back up to a more skilled and organized playing level," junior Audrey Boennighausen said.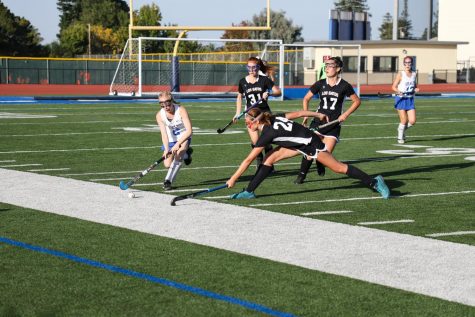 As they walked onto the field howling cheers and banging sticks to hype up the team and crowd, the girls's confidence was apparent, but they were also aware of the uphill battle to come. Coach Mary Donahue warned the girls to expect an extremely physical and tiring game.
With only 22 Eagle players and nearly double that on the Wildcat side, Los Gatos could constantly put in fresh substitutes while the Los Altos players were struggling to catch their breath. To ensure Los Altos could play through the game with full intensity, practices earlier this week focused on fundamentals and conditioning.
"Beating them would feel amazing and also like a weight lifted off our chest," sophomore Isabel Van Campen said. "It is a team goal, so we put a lot of pressure on ourselves to do well against them."
As expected, the Wildcats' claws came out early in the game. Wanting to match that aggression, fouling became a secondary concern, and both teams started fouling regularly. Near the beginning of the game, Los Altos fouled inside the goal circle, and one of the many short corners of the game was awarded to the Wildcats.
Short corners allow a hit from the boundary line next to the goal, which is normally passed to a teammate and tipped into the goal. Due to Los Gatos's aggressive playing style, they were awarded a total of 11 shot corners, giving them many opportunities to score.
But Los Altos was not shaken by this and defended almost each one with tenacity. With a largely defensive game, the team was ecstatic when senior Tessa Meyn scored the game's first point for Los Altos with 20 minutes left. The crowd cheered and stomped with excitement while the players huddled around Tessa to celebrate her first goal not only this season, but in her entire field hockey career.
"In the first half, there was a point when Coach Mary pulled a lot of us from the field, and [senior] Olivia Ih really came in clutch," Tessa said. "When they got past our goalie, [junior Emma Schmidt], Olivia stopped it on the goal line and saved the goal. She really came through. [Junior] Sarah Stoops had a lot of great stops in the center, and [junior] Ava Wheeler ran like crazy.
Just when the Eagles were ready to take flight with a win secured under their wings, Los Gatos scored a goal from a short corner with only two minutes left in the game. The scoreboard flashed 1-1 as the whistle blew, signaling the regular game's end and a transition to a seven minute overtime.
Shortly after overtime began, the Wildcats managed to fake out the Los Altos defenders and raced the ball down the field to score the winning point. Los Altos's defense remained strong for the majority of the game, but as they wore out, the weakened defense ultimately it cost them the game.
With a final losing score of 1-2, the game finished with the Eagles frustrated but already contemplating strategies to win their next match. However, this game was not in any way a waste for Los Altos. They put up a much better fight against Los Gatos than in recent years, losing by a single point rather than at least five. 
"We played together, and this was by far our best game the entire season," Olivia said. "Losing at the very end sucked because we tried until the very end and then it didn't end up working out. But I think we did really well, and even though we lost, we put up a good fight."