Varsity boys volleyball ends their season with a CCS loss in quarterfinals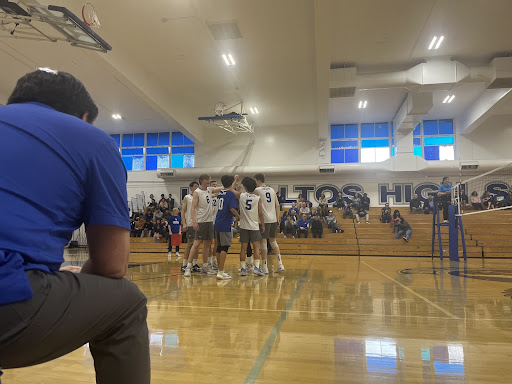 The Los Altos High School varsity boys volleyball team closed their season with a loss in the Central Coast Section (CCS) quarterfinals, losing in a close four-set match against Monta Vista High School. This loss marks the end of their season after placing first in the Santa Clara Valley Athletic League (SCVAL) with a nearly undefeated record of 14–1.
Opening the game with a shaky start, the Eagles made multiple unforced hitting and serving errors, as well as unsteady serve receives. They trailed behind the Matadors, unable to run an effective offense. The set ended 18–25 with an ace from the opposing libero.
As the second set began, the Matadors began to lose momentum, as the Eagles matched every point with aces by captain junior Sam Cousins, along with better serve receives. As the score tied at 10–10, the Eagles became stuck, with multiple missed serves and inconsistent passing giving the Matadors a five-point lead. Unable to climb back up, the Eagles lost the second set 19–25.
"It wasn't a good showcase of everyone's talents," captain junior Aiden Cuppett said. "We are way better than that, but we struggled to stop any hit. We got tooled a lot with no defense."
After a difficult first two sets, the momentum sided with the Eagles from the beginning of the third. A faster, more effective offense, consistent serving and unforced errors from the Mustangs gave way to a lead for the Eagles. Important plays such as an unexpected kill from the sophomore libero, Kevin Rubio, a one-handed set from outside hitter senior Zack Schuder and a kill from Sam kept the Eagles dominating the set. It ended 25–22, with a set from senior middle blocker Tyler Cairns and a kill from Sam.
The fourth and final set, however, proved more difficult than the third, as the Matador defense picked up almost every hit from the Eagles. The scoreboard read 2–7 and the Eagles were unable to close the gap as the offense faltered. The set ended similarly to the first, with a score of 18–25 and an ace from the Mustang libero, ending the game with a 1–3 loss for the Eagles.
"The energy level was really good, but our defense was not," head coach Peter Kim said. "Our focus was there, our intentions were there, but our execution was unsteady."
This game may have ended this year's season, but the team reflects back on their overall success with satisfaction.
"I think the season was amazing," Sam said. "I really couldn't ask for a better development of the guys and I'm really hopeful for next season. I see guys that are hungry and ready to play."
Leave a Comment