Varsity boys soccer finishes season in CCS quarterfinals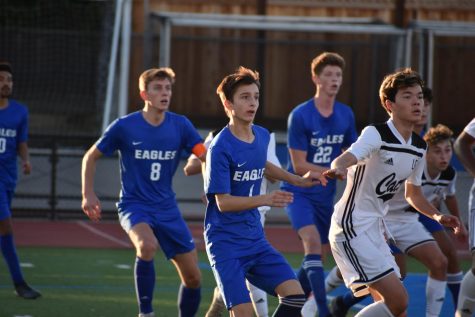 On Saturday, February 22, the varsity boys soccer team was knocked out of CCS by Leigh High School, losing the game 1-2.
"We started the game off strong by scoring a goal during the first half," junior Gael Lopez said. "Unfortunately, we slowly began to lose focus and gave up two horrible goals."
The Eagles had worked hard this season to strengthen their midfield and ball movement through practice and game experience. However, the CCS loss proved there are many things to improve upon for the next season.
"I think that we played really well during certain parts of the season, yet not so well during others," Gael said. "We could definitely work on being more consistent throughout the season."
Although this wasn't the outcome that the team was hoping for, it helped strengthen their overall teamwork and mentality. The players hope that they can improve individually while also making sure the team stays organized. With only 10 seniors leaving this year, a majority of the team will be returning for the following season in hopes of bringing home a CCS title for Los Altos.