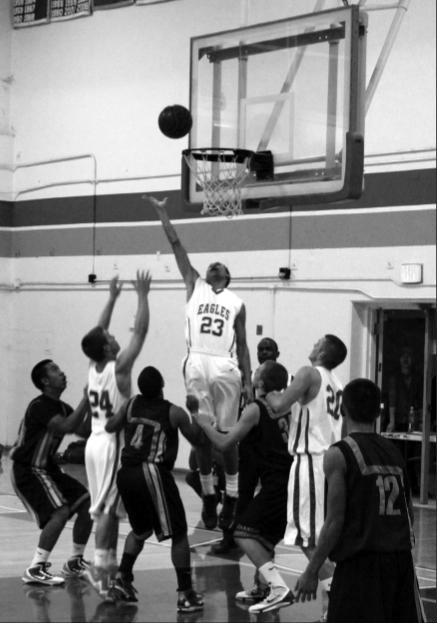 Junior Derek Breaux
reaches for a rebound in a game against Wilcox. The Eagles are top in the De Anza Division with an overall record of 14-5.
With a 14-5 record, varsity boys basketball is off to what junior Scott Yuan calls "a good year." This is its second year in the De Anza Division, and the team hopes to continue a successful season.
"We have a good group that has been dedicated to basketball over the past several years and has continued to improve," varsity Head Coach James Reilly said. "We can compete with anyone in the De Anza League because we are talented and work hard."
Reilly said the team faces skilled teams in the league. LAHS faces competition from Homestead High School, Fremont High School, Palo Alto High School and Los Gatos High School, who currently leads the League. LAHS lost to Los Gatos by one possession on Friday, January 15.
"When a game comes down to a possession, you look at what you could have done better," sophomore Simon Rosenbaum said.
Story continues below advertisement
The only other League loss LAHS has had this year was against Palo Alto, and during that game the Eagles had managed to stay in the lead for three-and-a-half quarters.
In its first League game, LAHS beat Homestead 44-40 after having lost to them in a holiday tournament.
Another notable game was the Eagles' 64-60 victory against Wilcox on Wednesday, January 13. According to Simon, the team went into the game overconfidently due to previous victories against Wilcox, and as a result "didn't start with intensity."
"We were losing going into half-time," Simon said. "But in the second half we were able to … come together and win the game."
In the fourth quarter, the Eagles took the lead and won the game.
"The most memorable moment this year was when we beat Wilcox at home," senior Spencer Wells said. "We were down 10 points going into the fourth quarter and pulled out the win by 4, scoring 24 points in that quarter to win the game."
The team's inconsistent game play, including poor beginnings like that against Wilcox, is a concern.
"We haven't been as consistent as we liked," Simon said. "We'll play a really good quarter, and the next quarter we'll have to back up."
But as a whole, Reilly is proud of the team's performance.
"We haven't had a bad game all year," Reilly said. "Even our losses have been good. We've only lost to very good teams, and all of them have been competitive games."
For example, when it lost to Bellarmine by seven points, the team was "able to compete very well that night," and Reilly said that he was "very proud of [the] defense and … passing that game."
Despite numerous victories against skilled teams, however, the team still has much to improve on before CCS and Leagues. Reilly says that the team needs to work on its shooting and rebounding in order to be able to win Leagues.
"The biggest thing our team can improve on is our zone offense and playing solid defense all four quarters with no breakdowns," Spencer said.
Simon agreed with Sean.
"Our team starts with defense," Simon said. "When we play a good defense, we're really a good team, and it's really hard to beat us because our defense kind of feeds into our transition offense. That's one of the strengths of our game."
The team is also preparing for CCS and Leagues.
"For CCS, Saint Francis has a great team that would be a real challenge if we were to play them," Spencer said. "We have lost in the first round of CCS the past two years."
The team has a positive outlook for the future. Given its trend in performance in past games, the team is anticipating even better matches to come.
When it comes to Leagues, Scott said there is a "100 percent chance we'll make top 3."
Reilly was more cautious in his predictions for the season.
"I think we will be in the hunt for the title, but the league is very tough, and any team can beat any other team on a given night," Reilly said. "We have the ability to win league, but so do several other teams."