Varsity baseball's path to CCS
The varsity boys baseball team, last year's Division I CCS champions, is preparing for another CCS playoff after being ranked at the top of the De Anza League for most of the season. They are now second in league and hold an 11-3 record. The team has already qualified for CCS.
Two of these three losses were against Palo Alto, which coach Gabriel Stewart attributes to having little preparation for Palo Alto's pitching. Palo Alto's top two pitchers were injured and on Wednesday, May 1, Los Altos burned through four of Palo Alto's pitchers, meaning they couldn't pitch in the next game. Because of this, Los Altos went into their second game against Palo Alto on Friday, May 3 facing pitchers they knew nothing about.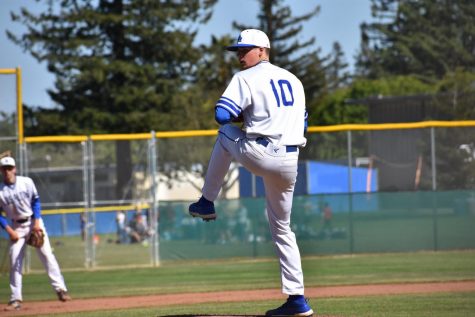 "We were facing a pitcher who was a lefty and just threw little curveballs," Stewart said. "When guys see a pitcher like that they get really greedy: 'I wanna hit it off the fence, I wanna hit it over the fence.' And pitchers are smart, they'll let the batter get himself out. And that's pretty much what we did. We were hitting the ball, but they played excellent defense."
This year, the team has focused a majority of their practices on hitting, which shows in the game scores: they average eight runs per game, compared to an average of five in the past two years. The team also averages two errors per game – that is, two plays that could have been reasonably made for an out, that weren't. This average is relatively high and puts them at the bottom half of their league defensively. Still, it seems that their hitting may have been enough: Los Altos may be selected as one of eight teams who play in the Open CCS tournament, the most coveted CCS championship.
The Open Division is made up of the best teams in CCS, possibly including Archbishop Mitty, Santa Cruz and Valley Christian High School—some of the most well-known and competitive baseball teams in California. A special committee will decide which schools are in the tournament by Sunday, May 12.
If the Eagles do not make the Open Division, they will compete in the Division I league playoff again. According to Stewart, the Division I tournament would be a far different playstyle than the Open. Since the bracket is sixteen teams rather than eight, having depth in the team's bullpen is key since one pitcher can't throw every game. However, overall, Division I would be a lower level of play and the team would be able to predict who their more difficult competitors might be.
"If we're in the Open, it's going to be high level baseball, every opponent will be a challenge," Stewart said. "But I think we're up to it. I think in many ways we've earned the right to try it."