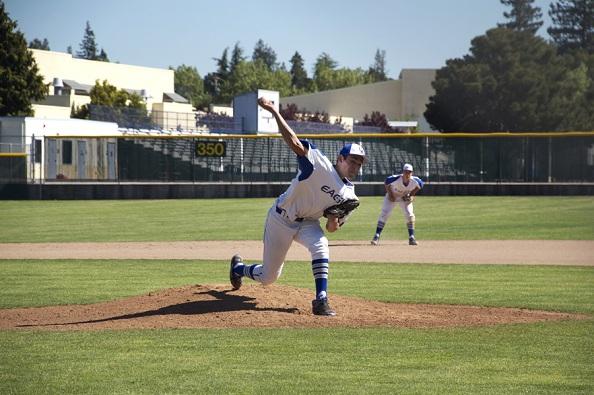 The Eagles took on the Santa Clara High School Bruins on Friday, April 20 and emerged victorious with a 7-0 win.
It was a warm afternoon, but the sun was not the only thing that was blistering hot. The right arm of pitcher senior Luke Wiechec was throwing heat right on by the Santa Clara hitters. Wiechec pitched five innings and struck out eight, mainly using his low 90's fastball and an absolutely nasty breaking ball that had the Bruins' hitters baffled all game. In high command throughout the entire game, Wiechec allowed one hit in his five innings of work and walked nobody. He added two RBIs at the plate on two singles and owned up to the hype of being the best pitcher in the Santa Clara Valley Athletic League.
The Eagles scored their first run in the second inning on a hard hit ball by senior Ryan Smith that flew past the Bruins' short stop. They added three more in the third thanks to back-to-back triples by seniors Joseph Chedid and Steven McLean. The Eagles put three more runs up on the board in the fourth inning on a two-out rally supported by two errors that Santa Clara committed. The offense had a very balanced attack, with every person in the lineup contributing to the seven run attack.
Story continues below advertisement
Senior Nolan O'Such came in relief of Wiechec and pitched a scoreless last two innings, giving up only one hit.
Baseball's next game is against Palo Alto High School on Wednesday, April 25.
[Photo by Ciera Pasturel]