Varsity badminton team loses rivalry game against Mountain View High School in their final season game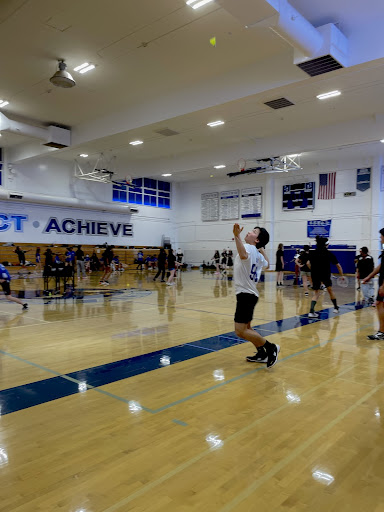 On Thursday, April 27, the Los Altos High School varsity badminton team lost its last game of the season to rival Mountain View High School.
"No matter the sport you're playing, MVHS is always the one team you want to win over," Head Coach Michelle Noeth said.
For senior players, this is also their final opportunity to compete for the team.
"I have a lot going with this game because this will be my last game with the school and the team," team captain senior Sreyan Sarka said.
In addition, the LAHS varsity badminton team has identified areas for improvement from their previous game against Mountain View.
"It's always fun to try something new and go for the deceptive shots, but our team generally has better fundamentals than most other teams in the area, so we're best when we stick to the basics, sticking to what we've practiced."
Despite their efforts, the game ultimately ended in a 10–20 loss for the Eagles. But even with the disappointment of losing their final game, the team takes pride in their progress and hard work throughout the season and plans to come back even stronger in the next season.
"Since tryouts, all of our members on the team have improved drastically and our record this season is a lot better than last season," team captain junior Ben Xu said. "And overall, our entire team has had a lot of fun this season."
Leave a Comment