Vandals key classroom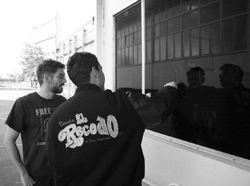 Seth Donnelly (left) points out the scratches left by the vandals.
Social Studies teacher Seth Donnelly's classroom, P11, had its window keyed over the weekend of Saturday, October 31 by an unknown perpetrator. The keying was noticed by Assistant Principal Ralph Cave and investigated by Student Conduct Liaison Genaro Quintana.
The school administration believes the recent keying may be linked to similar vandalisms on school property. The marks were said to appear the same or nearly the same as others. After the discovery, Quintana was sent to the classroom to investigate the scene and take pictures.
"Even though it's happened before, I think this one was just random," Quintana said. "I don't think it's gang-related, and I don't want to blame it on a kid just yet."
Donnelly said he noticed it on Sunday afternoon, but said he has no idea who could have done it.
"It really doesn't accomplish much," Donnelly said. "It's illegible, it's defacing school property and it's just a waste of money. Now we have to spend money replacing the window that could go [elsewhere]."
Even though keyings have recently been found in other areas, Donnelly is not worried because he believes that they are "not personally motivated."
The window was replaced by the administration last week.
Leave a Comment