Union negotiations: How They Operate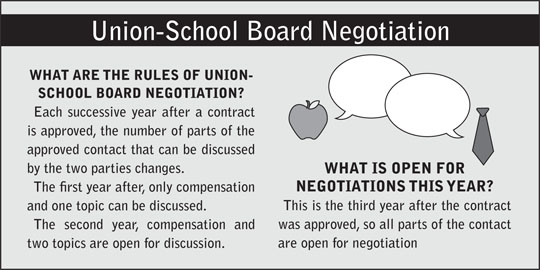 Starting in January, negotiations will begin between the Mountain View-Los Altos (MVLA) school district and representatives from the teachers' union. In a process known as sunshining, the two sides will state which issues they are discussing during a school board meeting. The contract between the district and the teachers expired in June 2012, yet it is still the formal agreement between the two parties until a new one is approved.
Negotiations last year reached an impasse, and both sides agreed to resume this school year. The two parties made this decision because California Proposition 30, a constitutional amendment that raised taxes to fund schools, had not yet been approved. This left a degree of uncertainty on how much money the district's budget would have next year. This year, the two parties will not only have to discuss the issues that each side brings up, but also conclude the negotiations from the previous year. As a result, the length of this round of negotiations is highly variable.
Once both parties have reached an agreement on the items being discussed, the contract will be sent to all members of the teachers' union and the school board for approval. If the contract is rejected by either party, then negotiations will resume until another agreement can be reached.
"The teachers' negotiating team and their executive board generally would not present something to the teachers that…wasn't going to get a majority vote to approve," Associate Superintendent of Personnel and Technology Steve Hope said. "I generally do not present anything to the [school] board unless I feel fairly comfortable that the board is going to be okay with it."
There are two dominant ways to handle negotiations: interest-based bargaining, which the district and teacher representatives use, and adversarial bargaining. Both approaches use different strategies to reach a contract that both sides agree with.
"Interest-based bargaining is based on the proposition that you clearly articulate your interest as a side," Hope said. "Hopefully, at the end you both come up with solution in a collaborative process that will address both interests."
In comparison to adversarial bargaining, interest-based bargaining requires more honesty and a trust on behalf on both sides.
"[Adversarial bargaining] is kind of like buying a car," Hope said. "You have two sides, and you say if I want to buy a car I'm going to pay $5,000 while I want $10,000, and then you negotiate…and we keep negotiating and coming to some number in the middle."
Another disadvantage of adversarial bargaining is that a base must be set during the negotiations, such as asking $5000 for a car. This base is then worked around, but it cannot be removed.This practice of establishing an offer and then withdrawing it is known as regressive bargaining, which is illegal. In comparison, interest-based bargaining relies more on brainstorming, with both sides making non-binding suggestions to meet each other's interests.
"[In interest-based bargaining], it's okay to be much more creative and collaborative when looking for a solution," Hope said.
Regardless of which bargaining method is used, only a certain number of parts in the contract are open for negotiations, but this amount changes after each successive year. In the first year of negotiations after a contract has been approved, only compensation and one topic chosen by each side can be discussed; the second year compensation and two topics can be discussed. This upcoming round of negotiations will be the third year, where all parts of the contract are open to discussion.
Leave a Comment