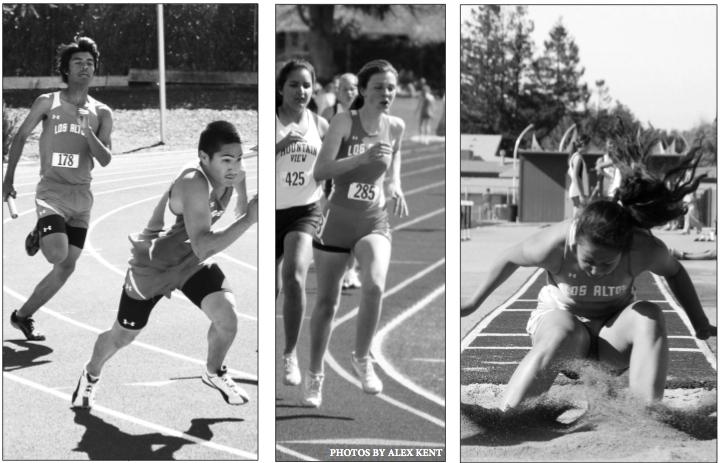 Freshman Jose Rutiaga (far left)
readies the baton to teammate
sophomore Moe Ceballos (left). Sophomore Sophia Steffens (middle)
passes Mountain View High School competition in the 800 event.
Sophomore Lauren Amorese (right)
lands her jump in the sandpit.
As the school year comes to an end, the track season is in full gear and preparing for an eventful CCS. While some school sports teams find themselves looking more towards the future and a process of rebuilding, track is focusing on winning the season at hand.
"From my perspective, we are having a great season, although it's not without its bumps and bruises both literally and figuratively," Head Coach PattiSue Plumer said.
Senior Scott Greathouse has jumped up to six feet five inches in the high jump this season and is ranked in the event. He may be ranked in triple jump as well. Senior Erin Hicks, who continues to improve over her season last year, is near the top of the rankings in the 1600 and 3200 meter runs.
Arguably one of the most impressive runners for the Eagles this season has been senior Eric Safai, who is ranked in the 800 and 1600 meter runs and has recently broken the 2-minute record in the 800.
Story continues below advertisement
Eric will be taking his success with the Eagles to college. After making it to CCS finals last year, he will be running cross country, indoor track and outdoor track at the Massachusetts Institute of Technology (MIT) next year. Eric has high expectations for himself as well as for his teammates.
"I'm expecting to make it to at least CCS trials," Eric said. "Ideally, I would try to shoot for the state race, but that's a ways away. I hope everyone on varsity can make it into CCS qualifiers. There are a few individuals that I think can make it very far in CCS."
One of the most impressive feats of the season has been the girls 4-by-1 and 4-by-4, who are ranked in CCS and are performing at a higher level each week.
Even though the track season has enjoyed success thus far, it has not gone without its share of injuries, a problem common in many high school sports.
Sophomores Todd Grimm, Catherine Li and Markell Stine are three of the athletes who have been nursing injuries this season. Todd, who ranked in league in both hurdles races, is hoping to recover in time for league championships.
"Overall, our goals are to have athletes committed to the program and their teammates, to improve as the season progresses and to feel that this experience has benefitted them both physically and mentally," Plumer said.