Tony Ventura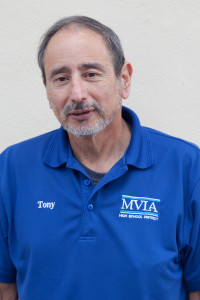 Tony Ventura has been part of the work force since age 12, when he began his career as a paperboy in San Jose, his hometown. He then worked as a grocery box-stacker and ladder assembler before getting a job at Levi Strauss right out of college, where he soon rose in the rankings.
"[At Levi Strauss] I was the lead in ship- ping and receiving," Ventura said. "I handled prepping all the merchandise and putting them into boxes. It was basically an all-day job, we started at about six in the morning and had to have everything boxed and ready to go when the first truck arrived at seven."
After 12 years, Ventura wanted to try some- thing new, so he applied to be a custodian for the MVLA District. He was hired as a custo- dian for Mountain View High School before being promoted to the lead custodian for Los Altos High School two years later.
Throughout Ventura's time at the school, he has seen the school go through many changes.
"At the time when I came, the library wasn't there, the cafeteria was where the library is, the quad used to be where the cafeteria is now and the quad used to have steps," Ven- tura said. "Every time it rained hard, people would get boats, put ducks and swim in the quad. [Also] the 100 and 200 wing used to go all the way across to the end of the 300 wing."
But while the school itself has gone through a lot of changes, Ventura says one thing has stayed constant: the incredible staff and kids.
"I've always liked the staff, the crew [and] the kids here at Los Altos," Ventura said. "Ever since I've been here, I've never had any problems with the kids, they've been a joy to work with."
Outside of being a custodian, Ventura is interested in a variety of subjects. He stays informed on current issues in the world by listening to news stations on his radio while he works, by reading publications like The Wall Street Journal, The New York Times, The Blaze and The Drudge Report and by watching the world news when he's up late at night. Ventura uses this information to fuel one of his passions: debating. Wheth- er the topic is politics or religion, Ventura loves a good debate.
Additionally, much of Ventura's research pays off—literally—in his strategic invest- ments in the stock market, something he's always enjoyed doing.
"I started investing when I was a senior in high school," Ventura said. "I heard that if you want to make money in the long run, you have to be patient…[and] buy a stock…while my brother and his friends were using money to go party and buy things, I saved everything and started buying stocks and bonds."
After almost 50 years of investing, Ven- tura has acquired roughly half a million dollars worth of stock. When he retires, he plans to finally sell his stock and use the money to support his retirement and allow him to focus on other passions of his, like astronomy.
"When I retire I want to focus on astron- omy," Tony said. "I love looking at space pictures and solar systems and all the beautiful galaxies…it's just amazing what you see out there. You see black but once you put the telescope out there are millions of stars out there…all this astronomy stuff is dumbfounding."
View Comments (1)