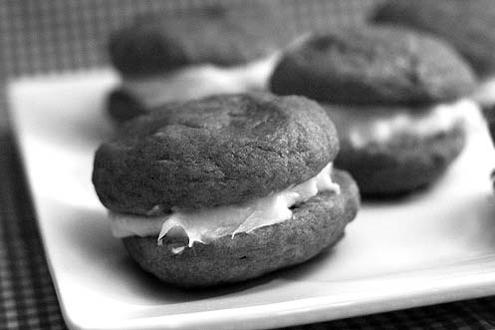 Pumpkin frosting sandwiches are tasty Thanksgiving desserts.

The perfect way to finish off an already-full belly from Thanksgiving dinner is with, of course, dessert. It is absolutely impossible to resist that warm pumpkin pie fresh out of the oven, calling for a bite. From traditional to healthy to strange, Thanksgiving is the perfect time of year to explore a vast variety of desserts.
Pumpkin frosting sandwiches might come off as a bit disgusting, at first, but this dessert truly follows the old saying "don't judge a book by its cover." As opposed to gags, consumers of this food will emit sighs of satisfaction.
Story continues below advertisement
These pumpkin frosting sandwiches are modeled after the classic ice cream sandwich, but with a bit of Thanksgiving spirit and spice. Because they are fairly small and can be eaten in a few bites, the sandwiches can easily be shared among friends and family. During this next Thanksgiving feast, no one needs to fight for the last slice of cake.
This dessert is the perfect way to finish off a Thanksgiving dinner. Not only is it extremely easy to make, it is also extremely quick to assemble. The sandwiches only require about 20 minutes to make.
The ingredients are quite simple, and most of them are pre-made, fairly cheap and easily accessible in any supermarket. In this recipe, no onions need to be chopped. No tears will be shed.
However, a nice tip for this dessert is to make sure to wait 5 to 10 minutes before assembling the sandwhiches so that the frosting will not melt and moisten the cookies too much. These sandwiches will be the perfect dessert for those who are looking for a way to send off their dinner guests quickly and happily.
Thanksgiving is the perfect time to experiment. So do not just stick to that traditional pumpkin pie and turkey feast. There is a whole other world of options to satisfy your Thanksgiving hunger.