The Los Altos High School Green Team
March 27, 2021
In years past, students may remember seeing LAHS Green Team members working on sustainability education or advocating against idling engines in the hopes of improving environmental initiatives.
Amid the pandemic, the Green Team turned its attention to the low-income families in the community which have been disproportionately affected by both COVID-19 and the California wildfires caused by climate change. To combat the growing disparities in wildfire prevention, the club initiated the Fire Safety project, an effort to better equip low-income households for environmental disasters.
The Green Team is currently in the process of providing 300 fire safety kits to the Second Harvest Food Bank and the Ecumenical Hunger Program in East Palo Alto, two organizations that provide resources to low-income individuals in the Bay Area. Another facet of the initiative is to implement emergency preparedness education in over 35 Bay Area schools through pre-recorded presentations and virtual games that will be sent out to students and staff.
"Working hands-on with the over 300 families my team and I have been able to provide fire safety kits and emergency preparedness education for has been so rewarding," club Secretary Diya Gupta said. "Talking to the families we came into contact with has really opened my eyes as to how a seemingly simple club project was able to implement such a crucial change within our community."
Beyond this project, the Green Team has additional club subdivisions that focus on addressing a wide range of local and statewide environmental issues including Lobbying for Representative Anna Eshoo, Environmental Education (E2), ClimatEdu, MVLA Middle Schools and Sustainable Eating.
Even though the Green Team is unable to collaborate in person, members continue to bond over their advocacy for environmental education and report feeling more connected to the cause than ever before.
"The Green Team has really flourished with this virtual pandemic," Diya said. "People have really stepped up to the plate and continue to follow through with what they're passionate about. Club members are able to take on what they want to take on, and everyone who's involved in the Green Team has left such a positive impact on the community during this time."
---
Students for Green High Schools Conference
For the past seven years, the Green Team has held the annual Students For Green High Schools (SFGHS) conference as part of their E2 initiative, an event where students passionate about transforming their schools and communities into greener spaces can come together and exchange ideas and aspirations.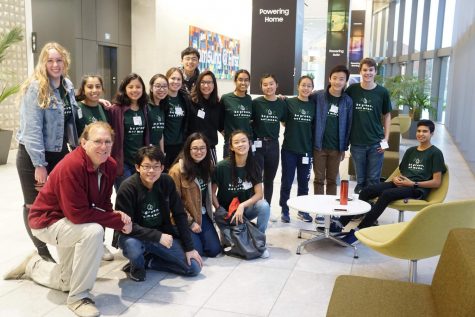 This year, the conference took place virtually and welcomed over 44 organizations and clubs from across the nation to inspire, learn about others' initiatives and strengthen environmental responsibility as a whole. Despite being held virtually for the first time, the conference maintained the same collaborative environment among participants and even succeeded in reaching students beyond the Bay Area.
Among the many SFGHS conference attendees from the United States, Canada and Colombia, two local groups, the Bay Area Youth Lobbying Initiative (BAYLI) and Sunrise Silicon Valley, shared their own approaches to helping create an eco-friendly society during the pandemic.
"SFGHS is always a great experience for youth environmentalists," founder of BAYLI and Gunn High School junior Saman de Silva said. "My takeaway this year revolved around the fact that when there's a will, there's a way. I can share a similar sentiment to what I felt last year, in that the conference is the big amalgam of environmentalists across the Bay Area, and it's just so heartening to see that everyone in that call is making a conscious effort within their spheres — regardless of size."