The journey and the gains: How and why should you invest?
April 12, 2021
High schools don't typically teach students how to invest in the stock market, and investment certainly isn't a common extracurricular activity to pursue as a teen. Despite being a nontraditional bonding activity, both Eike and Abigail were inspired by their fathers to independently explore the stock market and begin making various investments.
"The first time I was interested [in investing] was two or three years ago maybe, because my father had some stocks like AMD (Advanced Micro Devices) and Facebook," Eike said. "I was [analyzing the behavior] of the stocks on a weekly basis. At the beginning of this year, I was getting a lot more interested in investing and looked through different subreddits [to gain more insight]."
Even though Eike does not consider finance as a potential future career path, he finds investing to be a beneficial hobby and hopes to apply the skills he's developed well into adulthood.
"Research is definitely very important before you invest because you have to look at the upsides and downsides [of an investment and] weigh them against each other," Eike said. "Decision-making, critical thinking and conducting research are good skills to [develop]."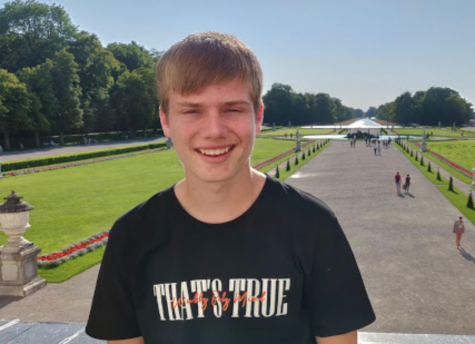 Considering the helpful skills they have developed through investing, both Eike and Abigail encourage high school students to get into the field as well. In addition to learning about the stock market from their parents, Eike and Abigail had hoped to expand their understanding through their senior year economics courses but were disappointed that the curriculum covered so little about personal finance.
"I took regular Economics this year, and it has a small bit on investing," Eike said. "But it's mainly just, 'Hey look, there's the stock market where you can buy stocks that can either go up and go down.'"
"I was hoping AP Microeconomics was going to teach me how to invest," Abigail said. "But no, it was a bit disappointing because the class had [few] real-life applications. Learning how to invest is essential in life because you want to retire eventually. People want to retire sooner rather than later, so if you make the right investments, you can potentially do that and have financial freedom."
Abigail's interest, investing money for retirement, is considered a long-term investment. Abigail, guided by her father's expertise, discovered the potential of long-term investing and suggests for others to consider this less risky but still profitable option.
"I buy something knowing it will go up," Abigail said. "Maybe 20 years from now, I will sell it for an extremely high price. It's a much less stressful process to let a trusted company accumulate wealth over the years and sell it for a really high price years later."
But Peter disagrees. He believes that high schoolers should and are able to tolerate more risky investments with the advanced technologies available today.
"Just please, for the love of God, do not fall into the trap of long-term investing," Peter said. "I see so many middle-class adults act like it's a wise financial decision to park all their money for decades in an over-diversified portfolio for an 8 percent yearly return. This is essentially the lowest possible risk you could take in the stock market, and it will get you nowhere. For a nominal, barely appreciable increase in risk, you could get a colossally greater reward. Adults nowadays are stuck in the 90s, when tools [such as the internet and zero commission brokers] were not available to the average investor. High schoolers should definitely take some amount of risk — how much exactly is up to the individual to decide."
Peter himself had taken a considerable amount of risk when he invested all his funds in GME. From missing the peak selling price and waiting for a better value, Peter has learned valuable lessons about making major decisions when trading in short-term stocks.
"The thing that really doomed me here was overconfidence," Peter said. "I was absolutely sure that GME was going to $1000 and beyond, but I failed to consider certain factors, causing me to hold well past the peak (though let me be clear in saying that GME should have gone past $1000, and would have in a fair and free market). I will be more cautious in future trades, and take returns I am happy with, even if I believe I can get more."
Regardless of whether students choose to take no risk or more risk, according to Abigail, high school students should be careful not to invest their money into stocks without adult guidance.
"You should always have an adult who knows what they are doing to consult you," Abigail said. "Otherwise, you just feel like, 'Oh, I wish I did.' I am grateful for my dad, who had taught me so much and prevented me from making stupid mistakes like emotional buying."
Despite Abigail, Peter and Eike's different experiences and opinions on how people should invest, all of them agree that students shouldn't wait until adulthood to start investing. So why use those five dollars to buy a Creamy Jasmine milk tea when you can put them in the stock market?